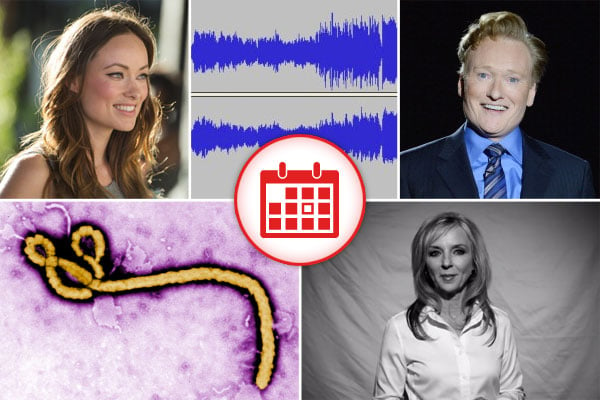 1. Americans Just Waiting For Go Ahead To Begin National Freak Out Over Ebola Epidemic In Earnest
The second American citizen who has contracted the ebola virus arrived at Emory University Hospital in Atlanta earlier today. Though the 59-year-old infected missionary nurse contracted the deadly disease while working in Africa, now that she has taken it stateside, Americans are waiting in panicked anticipation for the chance to run through the streets screaming in terror.
Ebola is most easily spread through misinformed Facebook posts.

— Sean Brewster (@TheSeanBrewster) August 5, 2014

2. Conan O'Brien To Perform The Greatest Song Ever Written About A Monorail For Simpsons Live Show
Late night host Conan O'Brien has agreed to perform "The Monorail Song" at a series for a live Simpsons revue at the Hollywood Bowl next month. The song comes from the episode "Marge vs. the Monorail," which he penned as a staff writer for the show two decades ago, when only a roomful of people understood how weird his sense of humor was.
my favorite eras of the Simpsons are the Conan years and when the father would try to choke the life from his son

— joewengert (@joewengert) May 31, 2014

3. Science Has Figured Out How To Turn A House Plant Into A Microphone, So There Goes Everything
U.S. citizens' last chance at anything even remotely resembling privacy is on its way out the window now that scientists have figured out how to eavesdrop on people by extracting sound from the minute movements of everyday objects such as house plants and bags of potato chips. The walls now have ears, literally.
News article says "New technology in bars play complex sound waves that turn off younger patrons from entering." Uh yeah, Its called; Jazz.

— Nick Vatterott (@nickvatterott) October 16, 2012

4. Congressional Candidate Disproves Global Warming With Thermometer And A Complete Misunderstanding Of How To Use It
Louisiana congressional candidate Lenar Whitney, who proudly refers to herself the "Palin of the South," claims to have disproved global warming through the use of a "simple scientific device" called a thermometer, as well as an oft-refuted argument. Not for nothing, an analyst for the non-partisan Cook Political Report said that he has never "met any candidate quite as frightening or fact-averse as Louisiana state Rep. Lenar Whitney... It's tough to decide which party's worst nightmare she would be. "
You can't argue with science. That is, unless you're an idiot. Then argue away.

— albertina rizzo (@albz) July 30, 2014

5. Baby Annoyingly Covering All The Good Parts In Olivia Wilde's Boob In Empowering Breast-Feeding Photo
Actress Olivia Wilde posed for Glamour magazine while breastfeeding her son Otis Sudeikis. The resulting touching photograph is being hailed as a triumph for mothers everywhere who breastfeed in full make-up and high fashion gowns. 
Olivia Wilde breastfeeds in Glamour: "Now it feels like Otis should always be on my breast." http://t.co/BV90HyEAMS pic.twitter.com/N8xk7GXxLn

— E! Online (@eonline) August 5, 2014
Gonna get Olivia Wilde breast-feeding her baby tattooed on my chest.

— LBJohnson (@ladybirdj) August 5, 2014

(by Dennis DiClaudio)