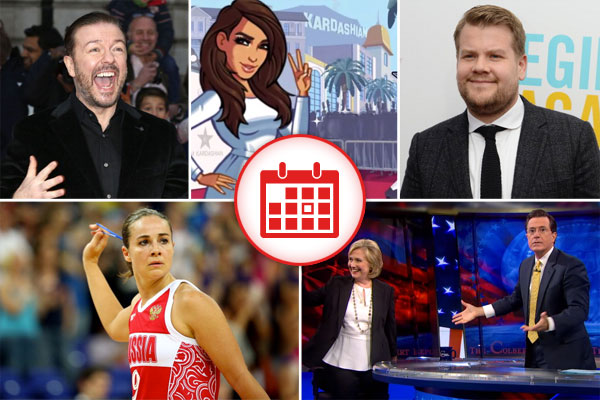 1. Hillary Clinton Makes Surprise Visit To Colbert Report To Not Talk About How She's Running For President In 2016
Former Secretary of State Hillary Clinton—whom everybody knows is running for president in 2016—made a surprise appearance on The Colbert Report last night to promote her new book Hard Choices and talk about a bunch of things unrelated to running for president, leading everybody to speculate on whether or not she's running for president, even though they all know she is.
FOX News Poll: Are American Voters Finally Ready To Shove President Hillary Clinton Up Our Conservative Asses?

— Jocelyn Plums (@FilthyRichmond) July 17, 2014

2. Now That Women Are Invading The Ghostbusting And Running For President Industries, We Might As Well Have A Female Assistant Coach In The NBA
The San Antonio Spurs basketball team somehow, in the year 2014, became the first NBA organization to consider the possibility that a woman might be acceptable for the purpose of coaching. WNBA all-star Becky Hammon has been hired as an assistant coach for the team. Hopefully, over the course of 16 years in basketball, she learned a few things about the game.
The San Antonio Spurs hired a female. Late night talk shows do not.

— Jensen Karp (@JensenClan88) August 5, 2014

3. CBS May Have Found A Kind-Of-Famous English Dude To Replace Kind-Of-Famous Scottish Dude Craig Ferguson On 'The Late Late Show'
CBS has unofficially announced that it has found the fresh white, male face it's been looking for to replace Craig Ferguson as the host of The Late Late Show. British comedian James Corden—whom you may know from his work on such cultural phenomenons as Gavin & Stacey and One Man, Two Guvnors—has reportedly been chosen over literally every single woman and black person on the planet.
Looks like playing James Corden in all my late night fantasy leagues is going to pay big dividends! #hadafeelingabouttheguy

— Nathan Rabin (@nathanrabin) August 6, 2014
MORE! MORE WHITE MALE FACES ON LATE NIGHT TELEVISION! MORE!!!!!!!!!!

— Julie Klausner (@julieklausner) August 5, 2014

4. Novelist Ayelet Waldman Becomes 1 Millionth Person To Call The Kardashians "Vile Scumbag Pigs"
Novelist Ayelet Waldman is bravely bucking the cultural stream and daring to criticize Kim Kardashian and her family members, calling them "vile scumbag pigs," after the Kim Kardashian: Hollywood apparently tricked her 11-year-old son into spending $120 and making him cry. 
Hey but what if it had been Kardashians of the Galaxy ? I think it would go a little something like this: (shoots self in face head)

— Sean Crespo (@SeanCrespo) August 3, 2014

5. Ricky Gervais To Take Break From Arguing About Atheism On Twitter Long Enough To Make Movie With His Character From 'The Office'
Ricky Gervais is bringing his David Brent character from the original BBC version of The Office to movie screens, with a faux-documentary called Life on the Road, in which the former office manager attempts to become a rock star. It is currently unknown how this film will relate to the overall subject of atheist activism.
I'm 100% sure Ricky Gervais thinks there will be a movie made about his life within one year of his death.

— Josh Gondelman (@joshgondelman) March 20, 2014

(by Dennis DiClaudio)