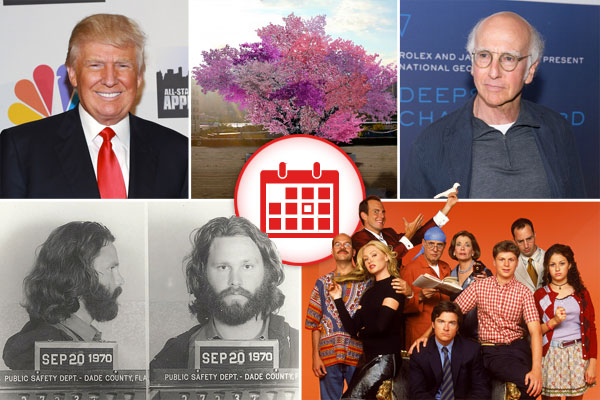 1. Donald Trump Doesn't Want His Name Associated With Trashy, Run-Down Trump Casinos
Adonis-like millionaire Donald Trump—who made headlines this week for stating his opinion that Ebola-infected medical workers "must suffer the consequences" of their humanitarian efforts—has apparently finally found a thing that he does not want his name plastered across in giant gold-plated lettering. The real estate mogul is trying to get Atlantic City's Trump Plaza and the Trump Taj Mahal to remove his name due to the run down conditions of both establishments, claiming in a lawsuit that they're damaging his brand, which "has become synonymous with the highest levels of quality, luxury, prestige, and success."
Donald Trump is a terrible person but a wonderful Andy Kaufman character.

— Tom Ceraulo (@tceraulo) August 4, 2014

2. Larry David Is Taking His One-Trick Pony To Broadway
Curb Your Enthusiasm lead and creator Larry David will reportedly be starring in a Broadway play he has written, titled Fish in the Dark, in which he will presumably play a misunderstood, crotchety guy who has a number of arguments over small matters with the other characters in the play, much like in that one other thing he did.
Larry David occasionally yells when he acts.

— Andy Kindler (@AndyKindler) July 8, 2014

3. Netflix Promises Another Season Of 'Arrested Development' For Fans To Bitch About
Netflix chief content officer Ted Sarandos is promising fans of the cult sitcom Arrested Development that they'll have a whole new season of the show to pick apart and complain about on Twitter for years to come. "It's just a matter of when," he told USA Today.
Being excited that Arrested Development is coming back on Netflix for a 5th season

— ThingsWhiteFolksLike (@Things4WhitePpl) August 6, 2014

4. Marianne Faithfull Reveals That Jim Morrison's Death Just Might Have Been Drug Related
Singer-songwriter Marianne Faithfull has revealed new details concerning the death of rock music icon Jim Morrison. She claims that her boyfriend at the time, Jean de Breteui, supplied the Doors frontman with a supply of heroin that caused his death at the age of 27 in Paris. "I could intuitively feel trouble," she told Mojo magazine. "[H]e went to see Jim Morrison and killed him. I mean I'm sure it was an accident... The smack was too strong? Yeah. And he died."
Really disgusting the way Jim Morrison encouraged babies to start fires.

— Will Meh Weldon (@oldmanweldon) June 23, 2014

5. Artist Creates Tree That Grows 40 Kinds Of Fruit You Won't Eat
New York artist Sam Van Aken has spent the last nine years of his life creating a tree that bears 40 different types of stone fruit, including peaches, plums, apricots, and nectarines. "The trees were a way to collapse an entire orchard onto a tree," the artist explained. In related news, there's apparently at least 40 different kinds of stone fruit.
The basket on my dinner table is a place where fruit dies peacefully and with dignity.

— albertina rizzo (@albz) July 30, 2014

(by Dennis DiClaudio)