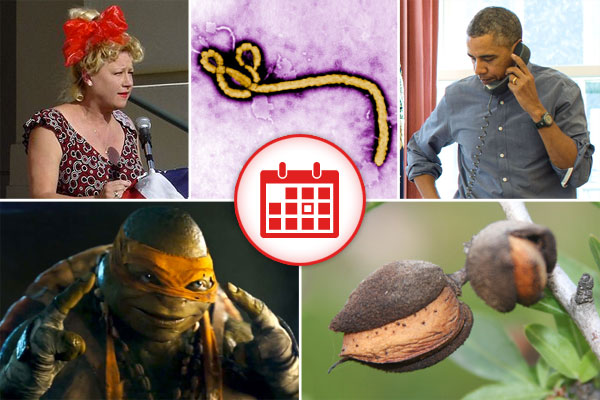 1. Obama Promises Not To Drag U.S. Into Another War While Dragging U.S. Into Another War
Liberals and conservatives alike are struggling to figure out how they're supposed to feel about President Obama's announcement yesterday that he is authorizing targeted airstrikes against Islamic militants in Iraq. On the one hand, ISIS is undeniably awful. On the other, Obama is incapable of doing anything right/wrong (depending on your ideology). Hopefully, this will work itself out soon, and we'll be able to get back to despising/adoring him like normal soon enough.

Having a real hard time reconciling these air strikes with the narrative I've chosen to believe of Obama the secret jihadist.

— Moshe Kasher (@moshekasher) August 8, 2014

2. Former SNL Cast Member Victoria Jackson Too (Or Not Sufficiently) Unhinged For Republican Primary Voters
Victoria Jackson—the ukulele-playing former Saturday Night Live cast member and far-right conservative activist—has failed in her primary bid for the county commissioner seat in Williamson County, TN. It's still unclear whether this is due to the Tea Party favorite's woeful inadequacy or woeful over-adequacy for such a position.
Sarah Palin is the Victoria Jackson of Donald Trumps.

— The Night Stalker (@kolchak) August 31, 2013

3. World Health Organization Gives Green Light To Begin Panicking About Ebola In Earnest
Much to the delight of hypochondriacs and chronic worriers everywhere, the World Health Organization has announced that the Ebola pandemic that has been radiating out from West Africa can now be considered an "international emergency" that requires an "extraordinary response." So, feel free to start boarding up your windows and polishing your shotguns.
Not sure what scares me more: ebola or quinoa.

— Doug Abeles (@dougabeles) August 7, 2014

4. 'Teenage Mutant Ninja Turtles' Shows 'Guardians Of The Galaxy' How To Do Anthropomorphic Animal Movies Wrong
The Michael Bay-produced reboot of the Teenage Mutant Ninja Turtles franchise is opening to generally poor reviews—holding a 21 percent rating on Rotten Tomatoes right now—and what's expected to be moderate box office receipts. All this despite having four times as many wise-cracking, anthropomorphic animals and one-fifth as much character development as Guardians of the Galaxy. 
People looking forward to the new Teenage Mutant Ninja Turtles movie are in deep denial about their clinical depression.

— Frank Conniff (@FrankConniff) August 6, 2014

5. Mr. Peanut Knocked From His Throne As The King Of All Nuts
Move over, peanuts! There's a new favorite kind of nut in America. Or something. Apparently, health-conscious consumers are now gravitating toward almonds as their nut of choice, with sales of the high-protein food jumping 220 percent in the past decade. 
Diet tip: top your morning oatmeal with toasted almonds and dried cranberries instead of mayonnaise and buffalo wings.

— Eliza Skinner (@elizaskinner) July 3, 2014

(by Dennis DiClaudio)