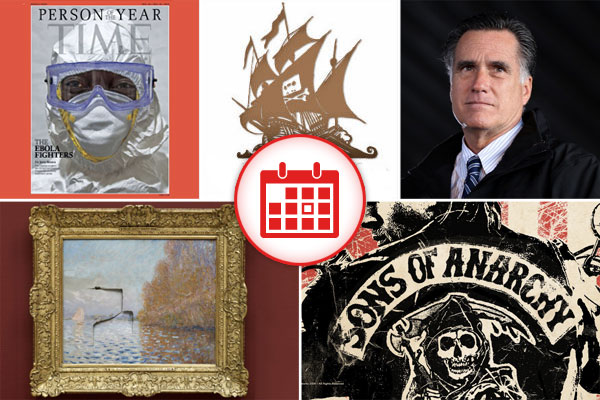 1. Ebola Fighters Narrowly Edge Taylor Swift As Time's 'Person Of The Year'
The heroic medical practitioners who risked infection and death to halt the spread of Ebola in Africa and give aid to the virus' ailing victims just barely managed to beat pop singer Taylor Swift for the honor of being named Time Magazine's 'Person of the Year.' With all due respect to the men and women who deal with Ebola on a daily basis, I doubt their version of 'Welcome to New York' would have been met with nearly as much glee.
Can't believe the Ebola Fighters are Time's Person of the Year after all the heroic work the Foo Fighters did stopping the spread of Foo.

— Rex Huppke (@RexHuppke) December 10, 2014

2. The Pirate Bay Pulled Down By Swedish Police Raid, Leading Many To— And It's Back Up Already
Swedish police yesterday raided the offices of the Pirate Bay—a controversial bittorrent site which has been notoriously difficult for authorities to shutter—seizing its servers and effectively bringing its website offline. This represents an enormous victory for media sources who have been trying to stop online piracy, and wait a minute, no, never mind, it's back up. Go about your business downloading unauthorized copies of Game of Thrones episodes.
Pirate Bay is down! SUDDENLY EVERYONE STARTS PANICKING AND RUNNING TOWARD MUSIC STORES

— Drinking Quest (@DrinkingQuest) December 9, 2014

3. GOP Turns Its 2016 Hopes Toward Young Upstart Named Mitt Romney
In an effort to reign in the clown show that is a presidential primary, top Republican donors are reportedly focusing the bulk of their money on three candidates that they think might have a chance of not losing too badly to Hillary Clinton in 2016. Those candidates are scandal-ridden New Jersey Gov. Chris Christie, Bush dynasty member Jeb Bush, and failed 2012 candidate Mitt Romney. So, as you can clearly see, they've got a really good feeling about this one.
mitt romney running for president again would be like "american hustle" trying to get nominated for another oscar

— blaine capatch (@blainecapatch) December 7, 2014

4. 'Sons Of Anarchy' Ends Its Long Run With An Even Longer Episode
FX's hit series Sons of Anarchy—which has, in recent years, tested its audience's patience for overlong episodes, overwrought melodrama and extended motorcycle chase sequences—ended its seven-season run last night with a finale episode that succinctly wrapped up the final seven minutes of plot in a two-hour episode.
Sons of Anarchy was basically a seven-season Lynyrd Skynyrd song.

— Rex Huppke (@RexHuppke) December 10, 2014

5. Guy Sent To Jail For Punching Hole In Monet Painting, Probably Because He Thought It Was A Manet
A man who was caught on the National Gallery Ireland's security camera punching a hole through Claude Monet's "Argenteuil Basin with a Single Sailboat," worth a reported $10 million, has been sentenced to five years in prison, where he will have the opportunity and time to take up painting as a hobby and punch as many of his original works as he pleases.
Guy that punched a hole in a Monet was sentenced to 5 years in prison, making me rethink my plan to give Starry Night one right in the snoot

— Joe Garden (@joegarden) December 8, 2014
(by Dennis DiClaudio)