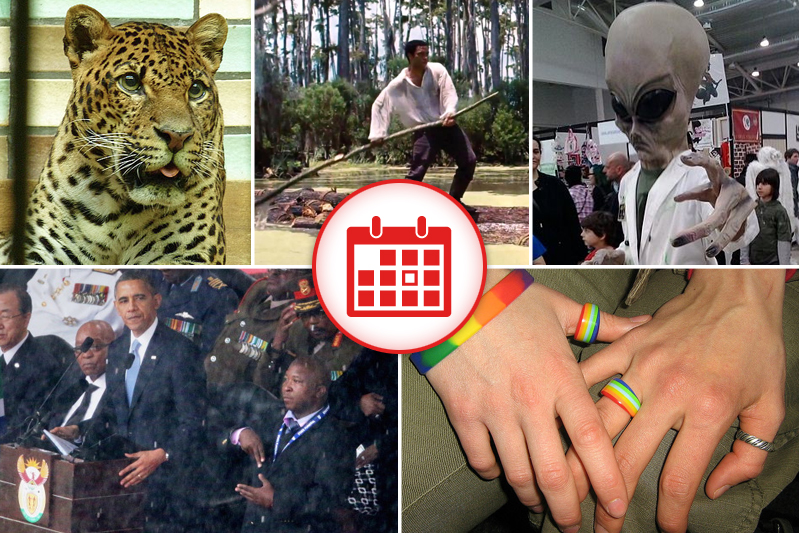 1. Super Depressing Movie About Slavery Looks To Be Feel Good Hit Of Golden Globes
Steve McQueen's 12 Years a Slave is dominating this year's Golden Globe nominations, along with David O. Russel's American Hustle, with seven nominations each. The two true-life tales of brutal soul-crushing slavery in the antebellum south and terrible fashion decisions in late 1970s and early 1980s show that audiences are excited to feel uncomfortable and depressed this year.
When it said '12 Years a Slave' I didn't realize they meant in a row.

— Robert Yasumura (@teamyasumura) December 8, 2013

2. Australia Rolls Back Gay Marriage Legality, Because In The Southern Hemisphere Civil Rights Go Backwards
Gay Australians watched their marrige rights spiral down the toilet—in the opposite direction than gay Californians watched theirs spiral 5 years ago—after the country's highest court struck down a law legalizing marriage equality. The national director of Australian Marriage Equality called the decision a "temporary defeat."
don't forget to set your clocks back 100 years if you're against gay marriage

— lauren ashley bishop (@sbellelauren) November 18, 2013

3. Rich Kids Trash And Loot Mansion, Making Off With $250K Leopard Which Unfortunately Wasn't Alive Enough To Maul Them
A bunch of rich kids broke into an abandoned but fully furnished mansion in a wealthy L.A. suburb and threw a party before looting the house and leaving $1 million is damages and stolen property. Among the objects stolen was a mounted leopard worth $250K.
The best proof that money doesn't buy happiness is rich kids.

— Abbi Crutchfield (@curlycomedy) July 19, 2013

4. Seattle Tunnel Construction Blocked By 'Mysterious Object' That Is Definitely Not An Alien Autopsy Factory
Construction on a highway tunnel beneath the city of Seattle was stopped recently by the discovery of a "mysterious object" that is totally not any kind of alien autopsy factory. The idea of an alien autopsy factory itself doesn't even make sense. Like, what would that even be? A factory where aliens are created to be autopsied? Or a place where lots of alien autopsies happen? And where are all these aliens even coming from? It's ridiculous! Anyway, definitely not an alien autopsy factory.
A mysterious object hit my windshield. I think it was a meteor & now I'm super excited to wake up tomorrow and play with my new super powers

— Jonathan Sloan (@MrBigFists) July 14, 2011

5. Fake Sign Language Interpreter Says He Was Having A Schizophrenic Episode, Making The Story Less Funny And More Sad
It looks as though that fake sign language interpreter at Nelson Mandela's funeral may not have actually had balls the size of South Africa but a mental disorder which caused him to hallucinate under the pressure of signing in front of the entire world. Thamsanqua Jantjie explained, "What happened that day, I see angels come to the stadium… I start realizing that the problem is here." Which is never a good way to begin a big job.
I'd apply to be the sign language interpreter at Mandela's NEXT funeral, but this star angel with 7000 glass hands is telling me no.

— John K. Yulelogdgman (@hodgman) December 12, 2013