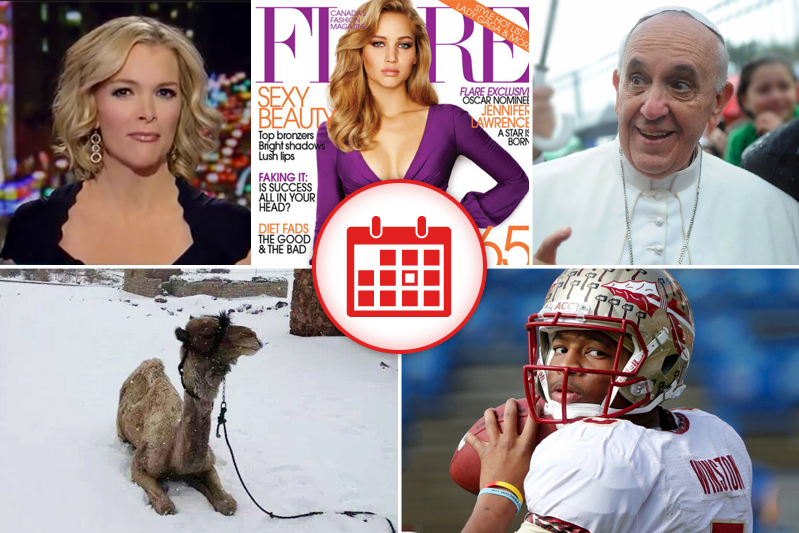 1. Megyn Kelly Is Fed Up With All These Race Baiters Calling Her Out For Race Baiting
Fox News host Megyn Kelly took time out of her show on Friday night to address all of the people who have been giving her a hard time for that very funny humor joke she made earlier in the week, when she devoted an entire segment to defending the whiteness of Santa Claus (and by extention, for some reason, Jesus), calling the response a "knee-jerk instinct by so many to race-bait and to assume the worst of people, especially the people employed by the very powerful Fox News Channel." No mention was made of how funny it has been to hear Jesus and Santa spoken of in the same breath all week long. 
FUCK WHITE SANTA! Black Santa woulda been down with Rudolph from the start. #Rudolph

— Lamont Price (@LPizzle) December 15, 2013

2. Winter Weather In Middle East Forces Egyptians To Dig Out Their Snow Sandals
For the first time in recent memory, frozen precipitation fell from the sky in Egypt, covering the grounds around Cairo in a surreal-looking blanket of snow. By all accounts, it was a welcome reprieve from the storms of frogs and Biblical wrath to which the locals are presumably more accustomed.
Ok, I had to share this: #Sinai #Egypt #CamelsintheSnow pic.twitter.com/D8XAfLa8bW

— يوسف الزنديق (@belharesya) December 13, 2013
يا جماعة الدنيا نزلت تلللللللللج والدنيا لونها ابيض!!!! pic.twitter.com/c516QItkCl

— Maha Salem (@MihooSalem) December 13, 2013
When someone says we can do something "weather permitting" I remind them that weather's not the boss of me. Snow or no snow, I'm not going.

— Gloria Fallon (@GloriaFallon123) December 14, 2013

3. Pope Francis Causes Stir By Suggesting Some Marxists Might Not Be Twisted Depraved Shit Monsters
Pope Francis has responded to allegations that he is a Marxist who does not sufficiently despise poor people, telling Italian newspaper La Stampa that "Marxist ideology is wrong. But I have met many Marxists in my life who are good people, so I don't feel offended," leading many to believe that he is a Leninist. 
This pope reminds me of the anti war Nuns I protested with at Honeywell and then would wave to them on the other side at Planned Parenthood

— Lizz Winstead (@lizzwinstead) December 12, 2013

4. College Football's Top Honor Bestowed Upon Its Top Accused Rapist
Florida State quarterback Jameis Winston was awarded the Heisman winner for 2013 and did not sexually assault a single person in the course of accepting the award yesterday. Overall, it was a rather noteworthy day for the very talented up-and-comer.
Are we totally sure Jameis Winston didn't force the voters to vote for him against their will?

— Patrick Ryan (@patrickmarkryan) December 15, 2013

5. Flare Magazine Photo Editors Use Photoshop To Make Noted Hideous Person Jennifer Lawrence Slightly Less Ugly
When Flare magazine opted to feature Jennifer Lawrence—the Hunger Games: Catching Fire star who is probably best known for her disgusting appearance that makes both men and women violently ill when looking at her—they really had their work cut out for them. However, what we can only assume were teams of photo editors working round the clock in a room littered with spent vomit bags somehow managed to manipulate her repugnant body and repulsive face well enough so that readers can now purchase a copy of the periodical without disgorging the contents of their stomachs all over the floor of their local drug store. Their work really speaks for itself.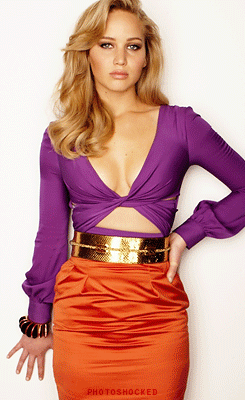 I don't mean to be a downer, but Jennifer Lawrence looks healthy.

— Louis Virtel (@louisvirtel) December 9, 2013