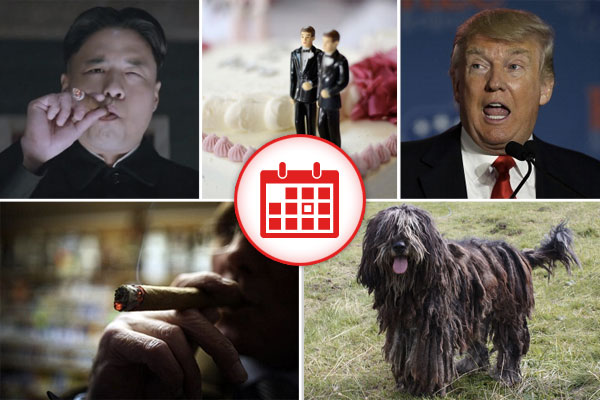 1. U.S. Officials Confirm That North Koreans Know How To Use Computers
Officials from the U.S. government have confirmed that North Korea is in fact "centrally involved" in the hacking of Sony Pictures Entertainment's servers. The craziest aspect of this ordeal is the hackers somehow managed to pull this off with their country's one room-sized, diesel-fueled computer.
Shame North Korea couldn't block the release of Sex Tape.

— Matt Suddain (@suddain) December 18, 2014

2. Cuban Cigars Are About To Start Tasting A Lot Shittier Now That They're Not Illegal
Now that the U.S. embargo against Cuba is coming to an end, and American travelers are allowed to carry $100 worth of the tropical nation's famous cigars home with them, smoking aficionados are about to make a somewhat shocking discovery: Cuban cigars kind of taste like ass. It remains to be seen whether they taste sufficiently more like ass than other high-end cigars for anyone to care.
OK, but when are we going to end the embargo on Cuba Gooding Jr?

— Jess Dweck (@TheDweck) December 18, 2014

3. Donald Trump 'Seriously' Considering 2016 Presidential Run, To Joy Of Comedy Fans Everywhere
Millionaire blowhard and reality TV star Donald Trump has once again decalred that he is "seriously considering" a run for the presidency in 2016. "A lot of people think I have fun with [talking about running for president] and I enjoy the process, but the country is in very serious trouble so I am considering it seriously," Trump said on Monday. Is he even allowed to talk about a presidential run and use the word "serious" at the same time? Doesn't that break some kind of campaign regulation?
Just found Donald Trump's birth certificate. It says he was born in Douchebagistan.

— Judah Friedlander (@JudahWorldChamp) October 29, 2014

4. Four-Legged Clump Of Ratty Hair To Be Acknowledged By American Kennel Club
The American Kennel Club has announced that the Bergamasco Shepherd—a somewhat dog-shaped pile of gross-looking hair with a protruding tongue—is included in a list of four new dog breeds that it will henceforth officially recognize.
Can't believe they have to put down all the losers at the dog show. Seems like a crazy rule.

— Kumail Nanjiani (@kumailn) November 27, 2014

5. Gay Divorce Finally Comes To Florida
A Florida circuit judge yesterday invalidated Florida's ban on gay marriage in order to grant a divorce to a lesbian couple. "For the first time in a divorce case, a judge has ruled that the state laws banning same-sex marriage and the recognition of those marriages is void and unenforceable because they violate Floridians' rights to equal protection under the law and the right to due process," an attorney for one of the women stated after the decision. It also confirms my belief that divorces are actually joyous occasions.
I'd like to be the first to propose that gay divorce be made illegal. Come on you two... You love each other. Work it out. For the corgis!!!

— Michelle Collins (@michcoll) May 9, 2012