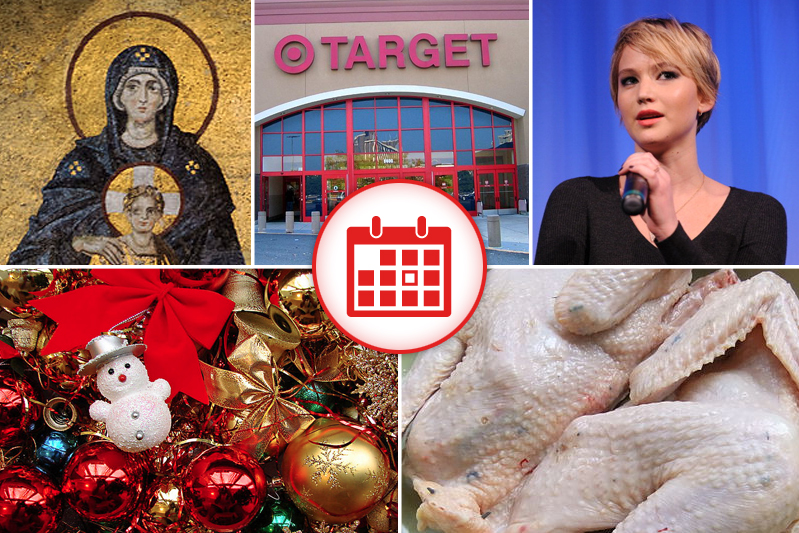 1. Target Just Let Some Cyber-Thieves Walk Away With Your Credit Card Number And A Bunch Of Personal Info, So Maybe Now Is A Good Time To Start That New Life As Miguel Sánchez
Credit card numbers and personal data from about 40 million Target customers were stolen recently in a huge cyber robbery that somehow lasted from just before Black Friday until about December 15. Target suggests its customers "remain vigilant for incidents of fraud and identity theft" in a manner exactly unlike the way they were with your information.
Target customers have their credit card info stolen. Thieves have made off with billions of dollars of debt.

— Hayden Black (@haydenblack) December 19, 2013

2. Here's A Story About Jennifer Lawrence And A Whole Bunch Of Butt Plugs, So Let's Not Even Pretend You're Not Gonna Read It
Jennifer Lawrence went on Conan last night and talked about all of the butt plugs that she used to have and how somebody found all these butt plugs and then something blah blah blah something else about butt plugs. (Pulitzer committee, you can send us our prize care of the Someecards offices. Thank you.) 
Listen, where does Jennifer Lawrence get off being so totally very likeable?

— lanyard (@lanyardigan) December 19, 2013

3. Your Chicken Is Covered In Disgusting Filth, And We're Not Talking About McNugget Dipping Sauce
97% of chicken breasts bought in U.S. stores contain "worrisome amounts of bacteria," according to Consumer Reports. The magazine recommends vigorous hand-washing and proper cooking to at least 165 degrees. We personally recommend not rubbing uncooked chicken all over your genitals before sex. But, hey, you're gonna do what you're gonna do. 
Just heard a radio commercial for a food product and its selling point is it's "salmonella-free" so here we are I guess.

— Sean Brewster (@TheSeanBrewster) October 17, 2013

4. 0.5% Of All U.S. Women Say They've Had a Virgin Pregnancy, So Clearly God Gets Around 
Apparently, one in 200 young women in America say that they've been impregnated without having had sex. Of the staggering amount making this claim, 31% have also made "chastity pledges" to their religious organizations, which is how you can tell they're telling the truth.
Mary must have been pretty ugly for people to believe that virgin birth story.

— Shane Mauss (@shanecomedy) April 29, 2013

5. High School Under Fire For Having Audacity To Suspend Child For Saying 'Merry Christmas' In Make Believe Story That Never Happened
A San Francisco high school with a name unfortunately similar to one that was included in a fake news article about the war on Christmas has been under fire from religious groups. According to the made-up story that is totally not true, a student was suspended for wishing an atheist teacher a Merry Christmas, just like conservatives have been fantasizing would happen eventually. Naturally, they were overjoyously outraged and proceeded to flood the school with a name that was close enough with angry emails and threatening phone calls.
I predict Christmas will, once again, win the War on Christmas.

— Miles Kahn (@mileskahn) December 18, 2013