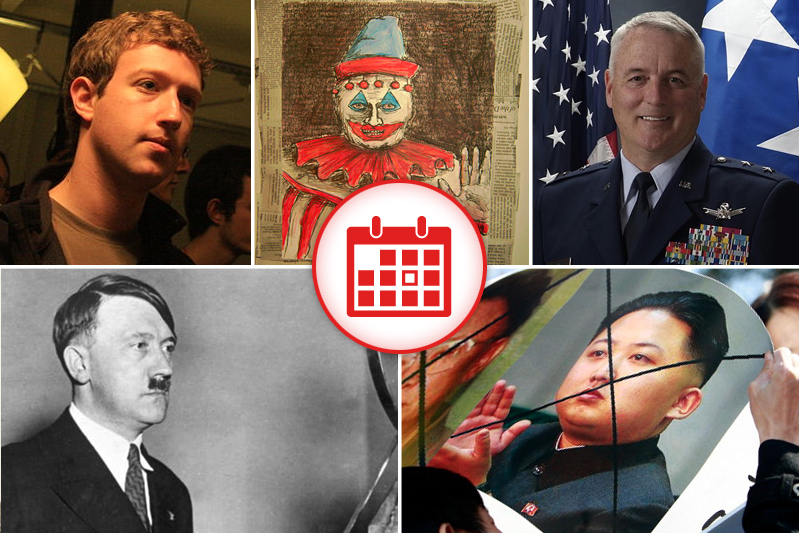 1. North Korea Faxes Threatening Message To South Korea As Showing Of Their Technological Dominance
The military powerhouse of North Korea issued a threat to South Korea via a mesmerizing form of technology that involved typing out their warning that they would strike "without notice" and then sending it via a telephone line to a box in South Korea that spit out a replica of the original message. Be careful, South Korea. A country that is capable of this kind of sorcery is capable of pretty much anything! 
North Korea threatened to attack South Korea via fax. They would have paged but there was a service disruption due to it not being the 80s.

— Warren Holstein (@WarrenHolstein) December 20, 2013

2. German Town Decides Maybe It Doesn't Want To Associate Itself With History's Greatest Monster After All
The German town of Dietramszell has rethought its decision to make Adolf Hitler an honorary citizen and as such is stripping the icon of intolerance and evil of his honorific. It is unclear what caused the town's change of heart, the bad press or the millions of innocent people Hitler killed during his lifetime.
"Don't worry, I ordered extra black olives on the pizza." - Adolf Hitler

— Rob Fee (@robfee) December 18, 2013

3. One Of John Wayne Gacy's Many Many Assumed Murder Victims Turns Up Alive In Montana, Showing That The Psychotic Serial Killing Clown Maybe Wasn't Quite So Bad As We All Thought
A man who had long been assumed to have been killed by noted serial killer John Wayne Gacy has been found living in Montana. This lowers Gacy's victim count from a staggering 33 to a merely unpleasant 32.
How are clowns still around? Shouldn't John Wayne Gacy have Hitler-mustached them out of existence?

— Kumail Nanjiani (@kumailn) December 18, 2013

4. Mark Zuckerberg Gives Away Billions To Charity, Still So So Much Richer Than You
Facebook founder Mark Zuckerberg is gifting $1 billion in stock to the Silicon Valley Community Foundation in addition to paying approximately $2 billion in taxes this year. That whole inventing Facebook thing is pretty nice work if you can get it, huh?
Mark Zuckerberg bought all the houses surrounding his house so he can cry alone in private.

— Mike Spiegelman (@Spiegelmania) October 12, 2013

5. Air Force Major General's Career-Ending Weekend Bender Kind Of Almost Seems Worth It
Maj. Gen Michael Carey, the Air Force officer who was fired last July, was apparently let go on account of how excellent he is at partying down. Carey apparently turned a four-day trip to Moscow into a debaucherous lost weekend full of booze, hot women and off-color jokes about Edward Snowden. 
Of course I'm drunk. If there's another way to be, let me know, I'll be in my office. *crawls into cardboard box*

— Giselle (@letsgetgizzy) December 20, 2013