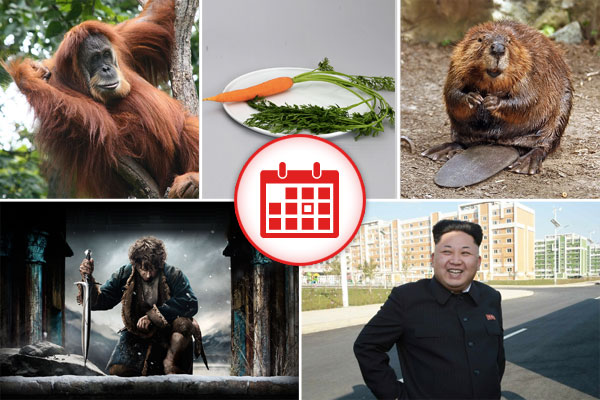 1. North Korea Threatens Violence Against U.S. Unless U.S. Lets North Korea Help With Sony Hacks That Came From North Korea
In an attempt to prove to the world how reasonable it is, North Korea has kindly offered to help the U.S. get to the bottom of this whole Sony hacker mess. If, however, Barack Obama's evil capitalist empire doesn't want the assistance, it will face Kim Jong-un's righteous and terrible wrath. "If the U.S. refuses to accept our proposal for a joint investigation and continues to talk about some kind of response by dragging us into the case, it must remember there will be grave consequences," a North Korean spokesperson declared. That's actually moderately reasonable by North Korean standards.
It's a good thing this North Korea thing didn't happen while George W. Bush was in charge cuz we'd be invading Japan right now.

— Kumail Nanjiani (@kumailn) December 21, 2014

2. Imprisoned Orangutan Unkindly Associated With Her Human Captors — Declared 'Non-Human Person' By Court
An Argentinian court stopped just short of calling a captive orangutan a human, declaring the 29-year-old primate a "non-human person" while accorded her certain basic rights, such as the right to not spend the remainder of her life locked up in a zoo like some filthy animal. It will henceforth be transferred to a sanctuary, where she will live out the rest of her days in a more comfortable form of imprisonment.
I feel like I know a surprising amount of "non-human" persons. http://t.co/u49K5pqQlP

— Martina (@breadsaltwine) December 22, 2014

3. Turns Out Beavers Have Been The Douchebags Behind Global Warming This Whole Time
Conservationist efforts to bolster the world's beaver population after they were close to extinction a century ago may have had an indirect link to global warming, according to some recently published scientific research. Apparently, the ponds that form around their dams result in large quantities of methane gas being released into the atmosphere, which contributes to climate change. Expect a spokesperson from a beaver think tank to show up on Fox News any day now to explain why global warming is a hoax.

Beavers are the delinquent teenagers of the forest. They just throw stuff into a stream. Forever. Until there's a lake.

— kurt braunohler (@kurtbraunohler) February 6, 2014

4. Society Has Been Tricked Into Finishing Its Gross Carrots When We Could Have Been Eating Ice Cream
So, apparently, all that jazz about carrots improving our eyesight was all just one big, disgusting hoax, concocted by the British government during World War II to hide the fact that their airmen were using radar to locate their targets. I can't wait to call up my mom and tell her how full of shit she was all those years!
Carrots are less good for your eyes when applied directly in their natural form.

— Mikey Mileos (@mikeymileos) October 28, 2014

5. America Says: 'F*** It! Let's Go Watch Some Computer-Generated Orcs'
Despite lackluster reviews and easily recalled memories of the disappointments that were the previous two Hobbit films, moviegoers turned out in droves to watch a bunch of computer-generated orcs fight unconvincingly with a bunch of digitally-reouched dwarves and elves for more hours than you can possibly image. Peter Jackson's The Hobbit: The Battle of the Five Armies easily won this weekend's box office and took in $90.6 million since its opening on Wednesday.
The surprise ending of "The Hobbit" is five more movies.

— CeCe Pleasants (@CeCePleasants) December 17, 2014