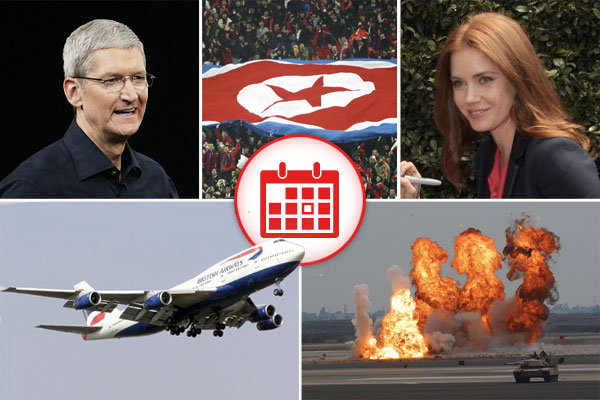 1. North Korea Has Its Internet Restored, Prompting Many Citizens To Wonder, "We Have Internet?"
After a terrible nine hours without access to the many webpages glorifying Supreme Leader Kim Jong-un and his many god-like ancestors, North Korea's Internet connection was finally restored yesterday. It is currently unknown if the outage was caused by a massive DDOS, a router error or somebody picking up the phone in the other room.
North Korea lost internet access yesterday. It resumed when they got their hands on another 50 Free Hours CD from AOL.

— Hayden Black (@haydenblack) December 23, 2014

2. Apple CEO Is 'Deeply Offended' By Journalists Exposing Its Factories' Poor Working Conditions
Apple CEO Tim Cook announced—through a statement with the company's senior vice president of operations Jeff Williams—that he is "deeply offended" by allegations made by British journalists that Apple's factory workers in China are subjected to the kinds of deplorable conditions that British journalists have shown Apple's factory workers in China to be subjected to.
Dinosaur embryos found in China... working in an Apple factory.

— Guy Nicolucci (@Nicolucci1899) April 11, 2013

3. Science Explains Why Airplanes Are Giant Compressed Tubes Of Flatulent Air
After watching a water bootle inflate and then deflate due to the fluctuating air pressure conditions during an airplane flight, a Danish physician discovered why airline passengers need to fart so often. Essentially, your digestive tract works much like his water bottle, and while high in the air, your bodily gases need to escape. So, it exits your bodies through your butt and into the recirculated air of the cabin. Just like it does for everybody else on your flight. Have a safe trip.
This airplane smells like a huge fart and mounds of defeat. #blessed

— Ashley Byrd (@byrdfacekilla) December 22, 2014

4. Amy Adams Kicked Off Hard-Hitting Morning News Show For Not Wanting To Discuss Sony Hack That She Was Not Involved With
Amy Adams' scheduled appearance on NBC's very serious news show Today to promote her new film was cancelled after she reportedly stated that she was not comfortable answering questions about the recent Sony hack that she did not participate in and was just barely affected by. "As a news program, the Today show doesn't allow guests to put restrictions on interviews. In this case, after hours of discussion we felt uncomfortable with the demands being made, and we determined the best course of action for all parties involved was to cancel the interview," a spokesperson for the show explained to the Hollywood Reporter, presumably while struggling to stifle an embarrassed laugh.
I haven't been to the movies in a while. Is Amy Adams still in all of them?

— Ritch Duncan (@ritchied) September 30, 2014

5. Right Now Is The Least Awful The World Has Ever Been, Which Is Remarkably Depressing
Despite the mountain of human rights violations, war atrocities and Dwight Johnson movies that slam us in the face every time we glance briefly at the news, the world is actually experiencing a level of serenity and non-violence never before experienced in human history, according to Harvard Psychology professor Steven Pinker and Human Security Report Project Director Andrew Mack. A "greater majority of humanity lives in peace and dies of old age" while "our impression of the world comes from a misleading formula of journalistic narration," they posit in an article for Slate. So, are they saying things could actually be worse?
"The world is terrible" is pretty much the meta-narrative.

— Praise Santa 666 (@theleanover) December 21, 2014