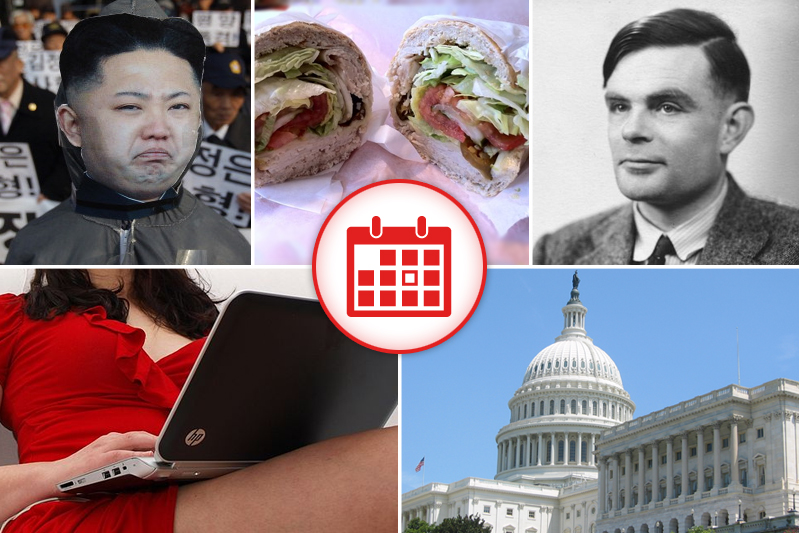 1. Kim Jong-Un Supposedly Drunk Executing People Like The Irrepressible Young Playboy Dictator He Is
Despite recent well-meaning claims by former NBA star Dennis Rodman that "It's all love" in North Korea these days, it would appear that there is also some drunk executing mixed in there, too. A source claims that the country's Supreme Leader leader "was very drunk" when he sentenced two of his uncle Jang Song-thaek's aides to death for supposedly questioning one of his presumably quite rational orders. We've literally never heard a single account of Kim behaving poorly, so it seems safe to assume that these two bozos had it coming. 
A funny goof that Kim Jong Un could pull on Dennis Rodman when he visits North Korea would be to execute him and enslave his family.

— Krister Johnson (@KristerJohnson) December 23, 2013

2. Wife Loads Her Computer With Child Porn In Attempt To Frame Her Husband, Forgets That That Still Counts As Loading Your Computer With Child Porn
A Pennsylvania woman who tried to get her estranged husband arrested on child pornography charges after craftily downloading illegal and explicit material to their computer was herself arrested for that very crime, after police determined the photos were added to the computer's hard drive two weeks after the husband had moved out of the house. Apparently, you're not even allowed to download that stuff for reasons of petty revenge. Who knew?!
Don't call karma a bitch unless you want it to come back to haunt you.

— Frank Lesser (@sadmonsters) November 21, 2013

3. Current Congress Seems Likely To Succeed At Goal Of Being The Least Successful Congress In U.S. History
During the 113th Congress' first of two year-long sessions, a mere 58 bills were signed into law, putting it well on track to be the least productive congress ever. However, if you judge success by the number of attempts to repeal Obamacare, they're the best by far, with a seemingly unbeatable 46 instances. Let's not forget that it also succeeded in shutting down the government for a month. So, this all really depends on your measuring stick.
Calling the 113th congress a disappointment would be a disappointment to the word disappointment itself.

— Damn Dirty Ape (@Zaius13) December 6, 2013

4. U.K. Graciously Forgives Computer Genius Who Was Instrumental In Winning WWII For Being Gay, 60 Years After He Committed Suicide
Alan Turing—the pioneer of computer science, without whose brilliant codebreaking skills the Allied Forces might not have been able to defeat Nazi Germany during World War II—has finally been granted a royal pardon from the United Kingdom for the terrible unpatriotic crime of being a gay person. Unfortunately, since Turing killed himself two years after being chemically castrated by the state in 1952, he was unable to offer comment on this magnanimous decision.
Today in 1912, Alan Turing was born. He is the father of computer science, so it's his fault we spend sixteen hours a day entering CAPTCHAs.

— Disalmanac (@Disalmanac) June 23, 2013

5. Chicago Sandwich Shop Gives Its Employees The Gift Of Unemployment For Christmas
You may think that your Christmas bonus from work was pretty sweet, but we bet it won't compare to the one that Snarf's Sandwich Shop in Chicago gave to all of its workers: the gift of never having to come back to work again. The sandwich shop's management sent out an email on Sunday informing its staff that the store would be closing "for an unknown period of time" for "remodeling and reconcepting" effective the very next day. It's a Christmas miracle! 
Nothing about Christmas morning can compare to the look of wonder on a child's face as you lie to them about a break-in.

— Chase Mitchell (@ChaseMit) December 24, 2013