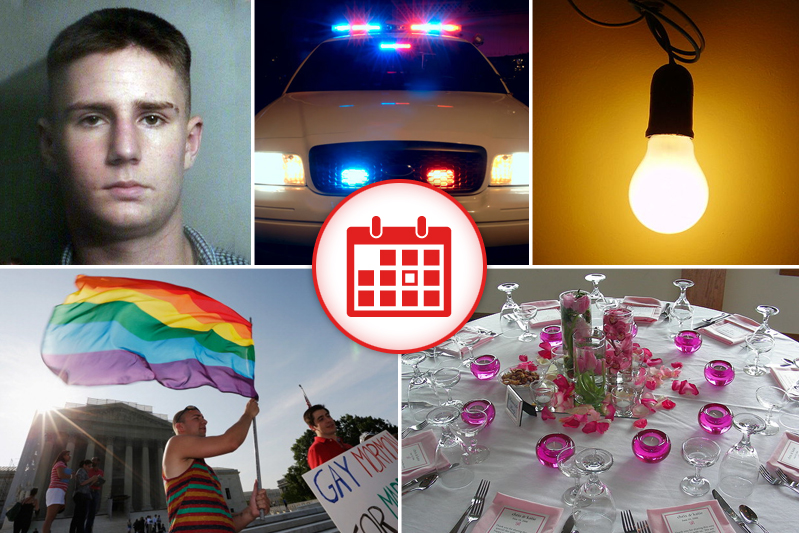 1. Texas Man As Dumb As He Is Racist — Brags To Cop About Punching An Elderly Black In 'Knockout' Game
A Houston-area white man was arrested and charged with a hate crime after bragging to an off-duty police officer about having punched a 79-year-old black man in a "game" of Knockout. 27-year-old Conrad Alvin Barrett supposedly even went so far as to proudly show the officer footage of the crime, which he kept on his cell phone along with a recorded statement about how the "plan is to see if I were to hit a black person, would this be nationally televised?" So, his experiment seems to be going according to plan?
Stop calling it "The Knockout Game" and start calling it "Boys Hitting People In The Face bc They Are So Mad About Their Super Tiny Penis"

— AmberTozer (@AmberTozer) December 10, 2013

2. Utah To Ask The Supreme Court For Permission To Not Permit Its Gay Citizens To Marry
In the wake of the devastating blow to institutionalized bigotry that Utah suffered last week when a federal judge effectively legalized marriage equality in the home of the Mormon church, state officials have announced that they're planning to appeal to the Supreme Court to win back their right to discriminate against a subset of their citizens for reasons that have yet to be adaquately expressed in a court room.
Dear Utah sorry Santa didn't get you marriage inequality like you asked for, maybe don't be such a dick next year?

— Krister Johnson (@KristerJohnson) December 25, 2013

3. South Carolina Bride-To-Be Valiently Saves Wedding By Stabbing Fiancé Who Disagreed Over Color Theme
A 34-year-old Colombus, S.C. woman was arrested on Christmas Day for stabbing her fiancé as he attempted to leave the room after the two argued over the color-theme for their upcoming wedding. It's unknown whether the wedding is still on or not, but you can rest assured that his terrible color preferences will not be included.
Wedding planning is a great distraction from thinking about how much you don't want to marry your fianc?.

— Lauren Greenberg (@LaurenGreenberg) May 5, 2012

4. America Reluctantly Says Goodbye To The Cheap, Wasteful, Old-Fashioned Light Bulbs It Loves So Much
Starting January 1st—and much to the chagrin of the kind of people who enjoy being chagrined over this kind of thing—40-watt and 60-watt incandescent light bulbs will no longer be produced. Once the supply runs out in mid-2014, Americans will be forced to use the slightly-more-expressive, much-more-energy-efficient and longer-lasting new-fangled curvy bulbs that represent everything they hate in the world.
I wonder what appeared over Thomas Edison's head the moment he came up with all those pre-light bulb inventions.

— Keating Thomas (@keatingthomas) November 26, 2013

5. Florida Cops Hand Lottery Tickets To Reckless Motorists Instead Of Speeding Tickets In Effort To Teach Valuable Lesson About Something Or Other
Melbourne, Florida police have begun handing scratch-off lottery tickets, paid for out of their own pockets, to drivers whom they have pulled over for speeding. "We're just doing a little bit of a different technique" one officer said. 
A good way to get out of a speeding ticket is to confess to a murder.

— Guy Endore-Kaiser (@GuyEndoreKaiser) August 12, 2013