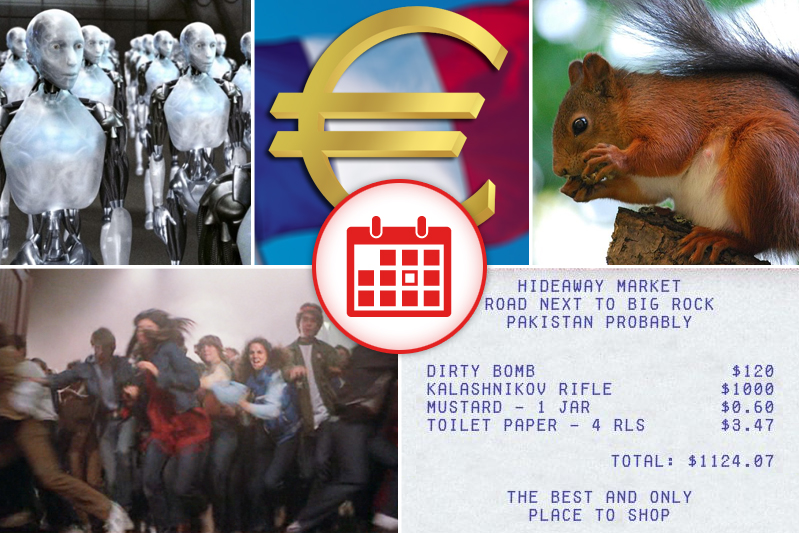 1. Wife Stabs Husband With Ceramic Squirrel, Probably Because There Weren't Any Ceramic Hedgehogs Around
A South Carolina woman was arrested and charged with domestic abuse on Christmas day after she used a ceramic squirrel to bludgeon and stab her husband because he apparently failed to return home with the case of beer he was supposed to buy. And while we can certainly blame the wife in this situation, we must ask ourselves what the odds are that this would have happened if the husband were carrying his own rodent figurine. This is why it's so important to protect whichever amendment it is that grants us the right to carry ceramic squirrels.
"Remember kids, it's never cool to do domestic violence on someone and that's...no bull." - Brett The Domestic Violence Prevention Bull

— Gavin Speiller (@gavinspeiller) December 14, 2013

2. Brooklyn Mall Invaded By Mob Of No-goodnik Teenagers
A herd of wild teenagers stampeded through the Kings Plaza Shopping Center in Brooklyn on Thursday, causing mass chaos for terrified adults, damaging property and "making trouble."  Some teen experts believe that the unruly crowd was attempting to migrate to the mall under the mistaken belief that they would see the rapper Fabolous, who is apparently a real thing.
Pack of teens loitering by the mailbox is my Everest,

— lafix (@lafix) October 12, 2013

3. New 'Millionaire Tax' Will Force France's Millionaire's Into State Of Slightly-Less Wealthiness
France has officially instituted a "millionaire tax" of 50% on any income above 1 million euros ($1.38 million), thus infuriating the nation's top earners, who will now theoretically have no reason to try to make money other than the fact that there's no chance in the world that they're going to stop trying to make money.
If Republicans just said millionaire tax cuts are 'organic' they'd probably get more liberal support

— Eli Braden (@EliBraden) September 30, 2011

4. Al Qaeda More Anal About Collecting Receipts Than Your Average International Terrorist Organization 
It turns out that members of al Qaeda are not only depraved, fundamentalist, murderous monsters, but also nitpicky, penny-pinching, bottom line-driven monsters. According to new reports, the terrorist organization is really into collecting receipts and documenting expenses for even really small things, like a jar of mustard or a canister of mustard gas. And just when you thought you couldn't like them any less.
Yes, they're a terrible organization etc. etc., but I wish somebody would make "Al Qaeda" an acceptable Scrabble word.

— Michael Ian Black (@michaelianblack) November 22, 2013

5. Google Buying Up All The Robotics Companies Around Probably Not A Great Thing, Huh?
The fact that Google—which already has nearly complete dominance over the collected knowledge of the human race—has bought eight robotics companies in the past year is probably something that we should be a little bit concerned about, don't you think?
You'll notice I'm careful never to Tweet anything that might offend robots.

— Robert Yasumura (@teamyasumura) December 10, 2013