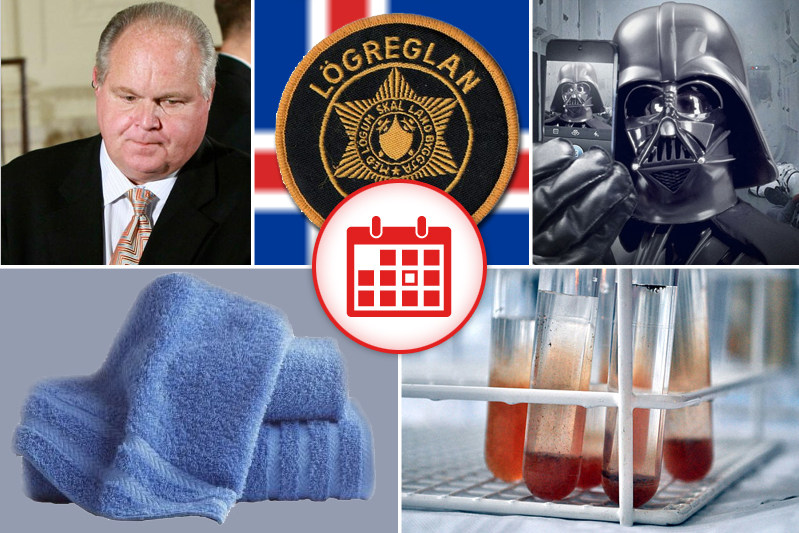 1. People Waited For Hours And Stepped On Each Others' Heads At Walmart To Buy Themselves Some F**king Cheap Towels
Apparently, the biggest-selling item — and the reason why an unimaginable number of Americans cut short Thanksgiving with their families and spent untold hours waiting in the freezing cold outside Walmart locations all across the country — was some cheap towels, which were on sale for $1.74 or 29¢ per wash cloth, meaning that— Wait, what? Really? That's nothing! We need some towels and wash cloths! Is this still going on? Out of our way or we'll run you over with the Happy Place Escalade!
The worst phrase in the English language is "decorative towel."

— Kumail Nanjiani (@kumailn) November 27, 2013

2. Icelandic Police Ruin Their Perfect Record Of Never Having To Gun Someone Down
The police in Iceland were compelled to use deadly force against a suspect who was firing at them with a shotgun the other night. This marks the first recorded incident of a police killing in the country's history. Meanwhile, a Chicago police officer has been acquitted for shooting a man 16 times because he mistook the man's cell phone for a gun.
Icelandic cops shoot a man. It will become a BAFTA-winning Norwegian series on the BBC & AMC will make a short-lived American version.

— Hayden Black (@haydenblack) December 3, 2013

3. This Darth Vader Selfie On Star Wars's New Instagram Account Makes A Lot More Sense When You Remember He's Really An Emo Anakin Skywalker
The first image from the new Instagram account which Disney has created for the upcoming Star Wars: Episode XII film is, of course, that whiny punk Anakin Skywalker showing off his new gothy black uniform. At least it wasn't a picture of a bowl of cho nor hoola.
I just remembered that Anakin Skywalker built C3P-O and I blacked out with hate for a second.

— Mike Drucker (@MikeDrucker) April 29, 2013

4. Much To The Dismay Of Christian Fundamentalists, Merriam-Webster's Word Of The Year Is "Science"
Merriam-Webster proved itself to be in the pocket of Big Liberalism when it chose "science" as its Word of the Year. There has apparently been a 176% increase in people looking up the blasphemous word, which really just proves what we've been saying all along: We should never have given up on the geocentric model of the solar system.
Most TED talks are just really shitty standup routines about science.

— Van Robichaux (@VanRobichaux) November 28, 2013

5. Rush Limbaugh Takes Down That Godless Communist Pope
Right wing talk radio personality Rush Limbaugh has been really giving it to that dirty Communist hippie Pope Francis over there in his socialist billion-dollar palace of godlessness. Limbaugh has said that the Pope's recent disgusting anti-Capitalist sentiments are "sad" and "unbelievable," adding that "This is just pure Marxism coming out of the mouth of the Pope." 
If natural selection is real, why hasn't Rush Limbaugh been eaten by sensible tigers?

— Rex Huppke (@RexHuppke) November 22, 2013