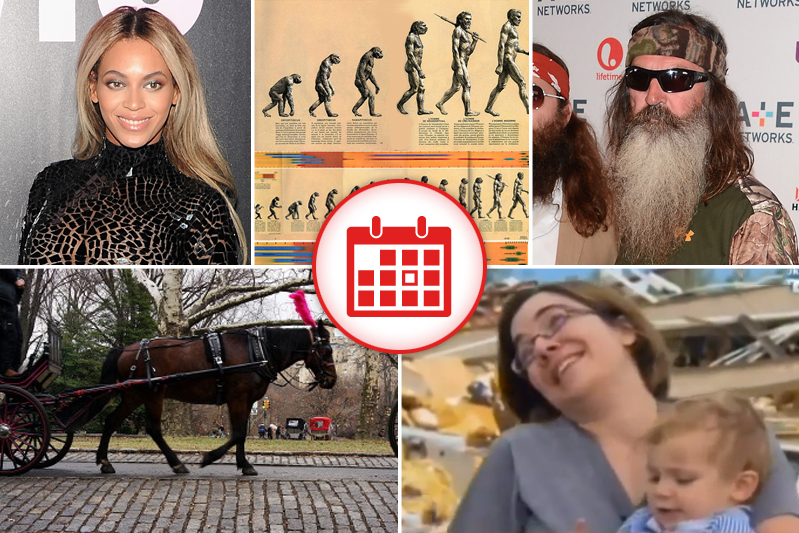 1. Beyoncé Criticized For Insensitive Use Of Commentary From Space Shuttle Disaster That Only Happened Three Decades Ago
Some current and former NASA astronauts are calling Beyoncé "insensitive" for using six seconds of audio commentary from the 1986 Space Shuttle Challenger disaster during the intro to her new song, "XO." The 28-year-old sample features a NASA public affairs officer discussing the in-air explosion, saying "Flight controllers here looking very carefully at the situation. Obviously a major malfunction." They kind of have a point. She really should have waited at least thirty years.
Before we criticize Beyonce, keep in mind Whitney Houston used audio from the Hindenburg explosion on "I Wanna Dance With Somebody"

— Jensen Karp (@JensenClan88) December 31, 2013

2. Incoming NYC Mayor To Make Hundreds Of Horses Unemployed
Bill de Blasio has stated that one of his first acts as mayor of New York City later this week will be to ban horse-drawn carriages in Central Park, calling the practice "inhumane." However, he has no problem with forcing hundreds of horses to go back to school and try to reinvent themselves alongside a bunch of younger, more-energetic horses.
I'm not saying Bill de Blasio is too liberal, but demanding we rename the entrances to sewers "gender-neutral covers" is a bit much.

— Warren Holstein (@WarrenHolstein) November 6, 2013

3. Comedian Raises $126K For Tornado Victim "Simply To Be A Prick"
Comedian Doug Stanhope initiated an IndieGogo campaign that managed to raise $126 thousand dollars for an Oklahoma tornado victim who told Wolf Blitzer that she is an atheist, saying he did it "simply to be a prick to her Okie-Christian neighbors, hoping that they were still eating off of FEMA trucks when someone drove up and presented Rebecca with a giant cardboard check." 
From what I understand, the Darkweb is 95% Doug Stanhope bootlegs

— Nick Flanagan (@theflans) November 5, 2013

4. One-Third Of Upright-Walking Semi-Intelligent Apes In America Do Not Believe In Evolution
According to a new poll, only two-thirds of U.S. citizens believe in the scientifically proven fact of evolution. Unsurprisingly, only about half of Republicans believe in it, while 67% of Democrats do. These numbers are actually pretty amazing for a bunch of scared and confused primates who were still throwing poop at each other a couple hundred thousand years ago.   
Yeah, I'll believe in millions of years of evolution when I can see it happening right in front of my eyes in real-time…

— Mark Leggett (@markleggett) December 31, 2013
Wait, only 67% of Dems believe in evolution? I'm pretty sure this explains why Chris Matthews still has a show. http://t.co/BnBJFkb565

— ben schwartz (@benschwartzy) December 31, 2013

5. The Palin-ization Of Phil Robertson Has Begun In Earnest — Someone Found Footage Of The 'Duck Dynasty' Star Advocating 15-Year-Old Brides
And now—as is evidenced by this newly found footage of advocating child brides—comes the part of the Phil Robertson saga in which outraged liberals scour hours and hours of footage of the Duck Dynasty star's speaking engagements looking for crazy things that he said, while Robertson becomes more and more of a household name and gets exponentially more rich. By June, TV pundits will be arguing about whether Robertson should serve as Sarah Palin's vice-president, or vice versa.
Phil Robertson is giving homophobic bigots a bad name.

— Curtis E. Flush (@cornlog) December 29, 2013