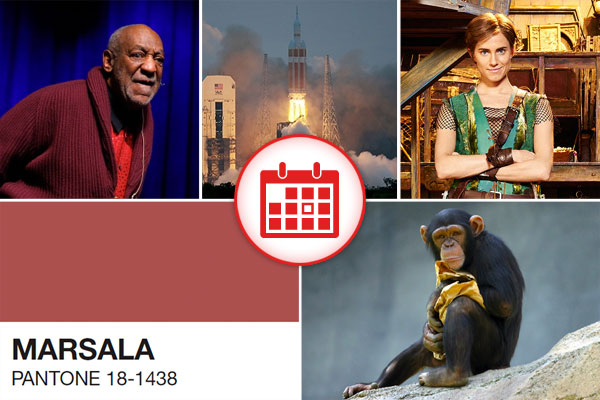 1. America Survives 'Peter Pan Live!' Mostly By Not Watching It
NBC's much-promoted Peter Pan Live! musical extravaganza pulled in a disappointing 9.1 million viewers, most of which being people gleefully hating it on Twitter. Though those numbers are down more than 50 percent from NBC's previous live musical, The Sound of Music, they're way up from the network's normal Thursday night programs, which really isn't saying much. In case you didn't get to watch, here's Allison Williams, as Peter Pan, acting like a rooster:
loved watching Peter Pan last night pic.twitter.com/AY83TmHwVc
— Mary Charlene (@IamEnidColeslaw) December 5, 2014

2. NASA Accomplishes Feat It Managed To Pull Off Half A Century Ago
The United States just came one step closer to killing several of its citizens on the surface of the planet Mars. The Orion spacecraft that will eventually carry people to our nearest planetary neighbor, where they will surely die, successfully splashed down into the Pacific Ocean after orbiting the Earth twice. Nice to see that we can accomplish the same things we did back when my grandfather was a young man.
The Orion Shuttle took off from Cape Canaveral this morning, which NASA hopes will be their first attempt at tragically crashing into Mars.
— Adam Cozens (@Adam_Cozens) December 5, 2014

3. Bill Cosby Is No Longer A Make-Believe Naval Officer
The United States Navy has announced that it is revoking Bill Cosby's honorary rank of chief petty officer in light of recent, highly publicized sexual allegations that it says "are in conflict with the Navy's core values of honor, courage and commitment." Cosby has not yet set his legal team upon the military institution, but it's still early in the day.
In order to top Peter Pan Live, NBC is commissioning a musical in which Bill Cosby's legal team musically slanders his accusers for 3 hrs.
— Gladstone (@WGladstone) December 5, 2014

4. Pantone 18-1438 Named Color Of The Year, Just Like We All Assumed
As many people predicted, 18-1438—otherwise known as Marsala—has been named the Pantone Color of the Year. Let's hope that "naturally robust and earthy wine red" doesn't prove to be as much of an embarrassment to its family of hues as 18-3224 was last year.
It's here! The @WSJ announces the Pantone Color of the Year for 2015 is #Marsala http://t.co/83Yd4o8tUD pic.twitter.com/jN2ug3gmGl
— PANTONE (@pantone) December 4, 2014

5. Chimpanzees Are Not Human Beings, According To N.Y. Judge
A New York appellate judge has ruled that, as chimpanzees are not human beings, they are not subject to the similar human rights considerations as their considerably more obnoxious hominid cousins. So, we're all free to treat them as garbagey as we feel like. Yay, humans!
Growing up we were so poor our chimpanzee had to wear a tuxedo tshirt, not a real one.

— Hank Thompson (@Hank_Thompson) May 30, 2014
(by Dennis DiClaudio)