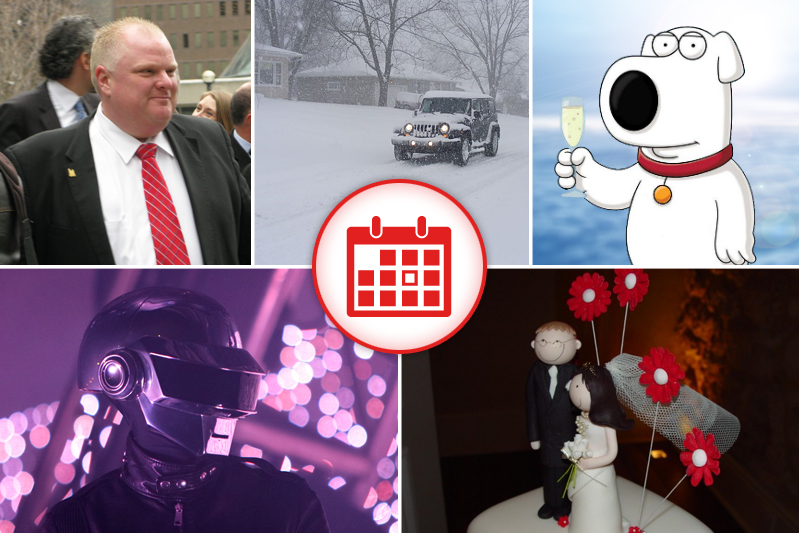 1. 'Family Guy' To Resurrect Cartoon Dog In Defiance Of Cartoon God's Will
Following Family Guy's historic decision to kill off one of its main characters, Family Guy has now made the historic decision to bring back one of its main charcter from the dead. The Griffin family dog Brian, who was run over by a car in an episode that aired two weeks ago, may be returning to the show as early as the December 15 episode.  
So sad to hear that the dog from Family Guy died and that Family Guy still exists

— Brian Gaar (@briangaar) November 26, 2013

2. America Is Experiencing The Coldest Winter Storm Since the '90s, But On The Plus Side It's Great Weather For Blowing Bubbles, Hun!
North America is currently experiencing a winter storm unlike anything it has seen since Monica Lewinski jokes were only mildy played out, as you can see from this this terrifying image:
So, clearly, it's BUBBLE TIME!
I admit it, I do say "Cold enough for ya?" sometimes. But only to the dog, who learned long ago to ignore everything I say.

— Mojave Phone Booth (@MojaveFoneBooth) December 6, 2013

3. Georgia Asshole Ordered To Pay $50K To Ex For Calling Off Marriage 
A Georgia man has been ordered by a judge to pay $50,000 to his ex-fiance, and the mother of his child, after he called off their engagement due to getting caught cheating on her. The goodly gentleman appealed the ruling, claiming that his relationship with the woman who had quit her job to be a full-time mother was akin to that of a john and a prostitute. Amazingly, his flawless argument somehow did not win him the appeal.

4. Grammy Nominations Are Out And They Feature Several Songs The Author Of This Article Has Heard Of
The 2013 Grammy nominations have been announced, and the list of potential "Record of the Year" winners miraculously includes two whole songs that the sad balding man writin these words can recognized when played over a supermarket PA system.
* Daft Punk featuring Pharrell, "Get Lucky"
* Imagine Dragons, "Radioactive"
* Lorde, "Royals"
* Bruno Mars, "Locked Out of Heaven"
* Robin Thicke featuring Pharrell and T.I., "Blurred Lines"
Here's the one of those two that's not about date rape:
I hope Phillip Phillips wins a Grammy for Best Song In Every Fucking Commercial

— Anthony DeVito (@AnthonyDeVito) December 2, 2013

5. Rob Ford Refrains From Mentioning Crack Cocaine In Nelson Mandela's Condolence Book
"Thank you for helping the world! You will be missed." Aw! And can you imagine how much sweeter that world be if the Toronto mayor were a 9-year-old boy?
Here's what Mayor Ford wrote in the condolence book for Mandela. pic.twitter.com/cSg6Hu9BN8

— Daniel Dale (@ddale8) December 6, 2013