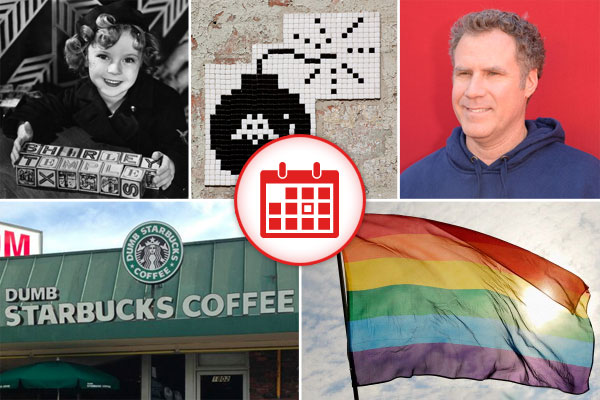 1. The World Is A Little Less Magic Since 'Dumb Starbucks' Turned out To Be A Comedy Central Prank
The world currently has upwards of 5 million hoaxes created in support of corporate products happening at any given time. But we only had one Dumb Starbucks. Did you have to take this away from us Comedy Central's Nathan Fielder?
Wait, Dumb Starbucks was fake?? Does that mean that Dumb Winter Olympics is fake, too?

— Adam Hammer (@AdamHammer) February 11, 2014

2. State That Allows 5-Minute Drive-Thru Discount Weddings Officiated By Elvis Impersonators Has Decided Not To Defend Its Ban On Same-Sex Marriage
The state of Nevada has decided that its constitutional ban on same-sex marriage is "no longer defensible," given recent court decisions in other states on the matter. The state is now free to devote all its efforts into figuring out ways to make it easier for drunk tourists who just met each other seven minutes earlier in an elevator to sanctify their relationship before a meth head singing "Jailhouse Rock."
If they make Gay marriage legal that means twice as many people won't be interested in me.

— JerryThomas (@JerryThomas) November 5, 2013

3. America's Favorite 85-Year-Old Adorable Tap-Dancing Toddler Dies In Her Home
Iconic child movie star Shirley Temple Black died in her California home last night at the age of 85. The country grieves her loss while bracing for the unfortunate though inevitable return of "On the Good Ship Lollipop" into the public consciousness.
Shirley Temple has passed. She is survived by her children Grenadine, Ginger Ale and Maraschino Cherry.

— Warren Holstein (@WarrenHolstein) February 11, 2014

4. Twenty-One Students Won't Be Graduating From Terrorism School After Unfortunate Car Bomb Lesson
The terror world mourns the loss of 21 Iraqi and Syrian terrorism students who were killed when a car bomb that was being used during a lesson on murdering innocent people accidentally exploded.
Do terrorists get paid vacation?

— Jill Morris (@JillMorris) January 12, 2014

5. Will Ferrell To Battle His Doppelganger Chad Smith Of The Red Hot Chili Peppers In "The Greatest Drum Vs. Cowbell Showdown The World Has Ever Seen"
Comedian Will Ferrell and Red Hot Chili Peppers drummer Chad Smith, who look unnervingly like one another, have agreed to face off in a 'drum vs. cow bell showdown' in an effort to raise $300,000 for cancer research.
Hey fellas, dating tip: chicks dig it when you reenact the entire Will Ferrell cowbell sketch.

— Miles Kahn (@mileskahn) December 9, 2013