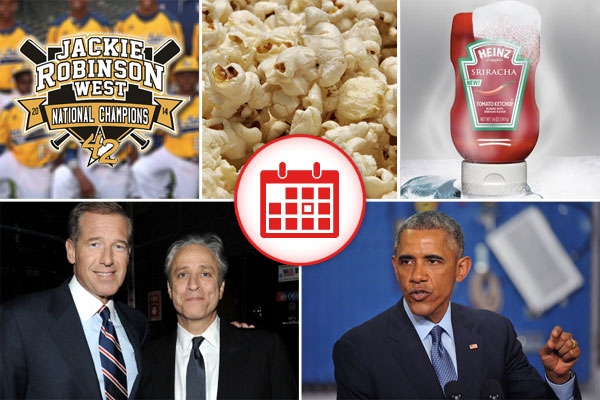 1. Goodbye, Jon Stewart And Brian Williams — America Bids Adieu To A Great Newsman And A Fantastic Entertainer (You Decide Which One's Which)
The genre of journalistic entertainment/entertaining journalism is losing two of its biggest hitters after NBC announced the six-month suspension of its nightly news anchor Brian Williams and Jon Stewart disclosed his imminent retirement from the Daily Show later this year. Will we ever again find performers so adept at blurring the line between what we need and want to hear?
"You should call Jon Stewart and tell him you'd like a tryout." -- a lot of comedians' good-hearted grandmas, this morning
— Patton Oswalt (@pattonoswalt) February 11, 2015

2. Perplexed Congress Forced To Choose Between Opposing President And Supporting War
President Obama is asking the United States Congress to formally authorize the use of military force against ISIS. Legislators are currently trying to figure out a way that they can self-righteously oppose this request while approving it at the same time.
What'd happen to your disgust with eternal war if I told you everyone in ISIS had unfollowed you at one time or another?
— Uncle Dynamite (@UncleDynamite) February 11, 2015

3. Little League Baseball Team Forced To Relinquish Championship Trophy Thanks To Childish Coaches
Chicago-based Little League baseball team Jackie Robinson West has been stripped of its National Championship status after it became clear to league officials that its coaches had recruited players who did not live with the team's geographic area in an effort to build the kind of championship team into which it was successfully built.
Hope the Little League kids from Jackie Robinson West learned their lesson..that most adults are evil.
— CJ Sullivan (@CJSullivan_) February 11, 2015

4. Calm Down, Internet, Your Sriracha Ketchup Has Arrived
No longer will you be forced to pour both ketchup and Sriracha onto your scrambled eggs and cheeseburgers like a chump. Heinz is finally releasing a ketchup flavored with the Internet's favorite hot sauce. Now, all we need is bacon-flavored Heinz and Jennifer Lawrence-flavored Heinz, and we'll finally know some peace.
Introducing the tastiest way to stay warm this winter #happyandspicy pic.twitter.com/iCwPjIbpjD
— Heinz Ketchup (@HeinzKetchup_US) February 9, 2015
Adding "don't give a crap about Sriracha" to my LinkedIn page.
— Rex Huppke (@RexHuppke) January 4, 2015

5. Physicists Peer Deep Into Universe To Discover The Secret Of Why Popcorn Pops
A team of French physicists have used high-speed cameras recording at 2,900 frames per second to determine once and for all the exact mechanics of how and why a corn kernel pops into popcorn. According to their highly important study, when a corn kernel is heated, the moisture within turns to steam, which raises the atmospheric pressure inside to ten times what can be found around its exterior. When the shell cannot hold out any longer, it pops. It is henceforth transferred to a bowl and devoured while you guiltily watch the newest episode of Scandal.


I haven't even SEEN a tri-flavor popcorn bucket this year. Are they extinct? I thought their foul taste made them undesirable to predators.
— Josh Gondelman (@joshgondelman) December 23, 2014