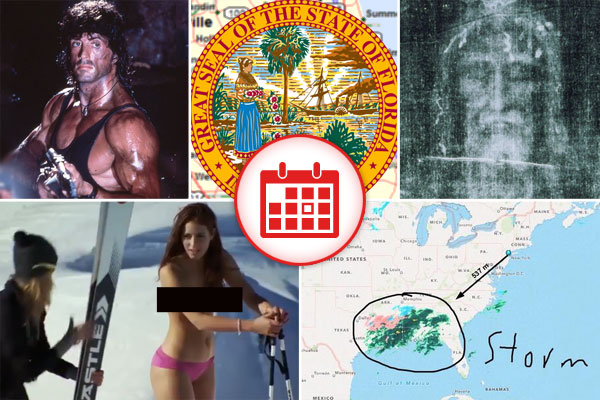 1. Terrified Georgians Brace Themselves For Strange, Deadly Substance Called "Ice"
Residents of Georgia are preparing for one of the worst winter storms the region has ever seen. Power outages have already been reported, thousands of flights have been cancelled and supermarket shelves are being depleted. The storm is expected to be nearly as bad as those experienced on an average March Tuesday in Michigan.
Here's your radar pic.Storm is more than 500 miles away still. Hits on Thursday pic.twitter.com/1kxdEVN94o

— NY1 Weather (@NY1weather) February 12, 2014
It's getting so cold in Atlanta, they're BEGGING Yankees to come set it on fire.

— Rob Kutner (@ApocalypseHow) February 11, 2014

2. If You Want To Name Your Child 'Rambo,' 'Facebook' or 'Circumcision,' You're Going To Have To Move Away From Sonora, Mexico
The Mexican state of Sonora has banned approximately 60 names that officials have deemed unworthy of being given to a child. The list includes such classics as "Rambo," "Facebook" and "Martian." It also bans the name "Circumcision" along with its varient spelling "Circuncision."
Looking for baby names? Stay away from "Taint". We're going to use that.

— Mark Leggett (@markleggett) February 7, 2014

3. Italian Scientists Discover New Way To Pretend The Shroud Of Turin Is Real
A team of Italian scientists have spent countless hours working tirelessly to create a brand new rationalization for why radiocarbon dating might make it only appear as though the Christian relic the Shroud of Turin was created several hundred years after Biblical times. According to the new impressively convoluted theory, a magnitude 8.2 earthquake released enough neutron particles to imprint Jesus' image onto the cloth while making the material seem newer than it really is. Or, conversely, it could be a fake, which, incidentally, would not disprove the Bible in the least.
Experts Claim Shroud of Turin Is Authentic. Not So Sure About Snuggie of Turin.

— Mark Jordan Legan (@MJLegan) December 22, 2011

4. Florida City Criminalizes Instinct For Self-Preservation In Homeless People — Makes It Illegal To Use Blankets Outside
The Pensacola, Florida city council has passed a "camping" ordinance, which effectively makes it illegal for homeless people to cover themselves with blankets, cardboards, newspapers or anything else that might protect them from the elements. No word yet on when the state will finally be sinking into the ocean.
Guy at this restaurant: "People give money to homeless people to feel good about themselves." Wow deep, crazy his date isn't blowing him yet

— Max Silvestri (@maxsilvestri) February 2, 2014

5. Lebanese Olympic Skier Causes Huge Controversy By Having Boobs, Showing Them
Olympic skier Jackie Chamoun has created an enormous scandal with her fellow Lebanese citizens by being a woman with the body parts commonly found on women and allowing those body parts to be recorded by means of photographic technology. Video NSFW (especially if your work is in Lebanon):
"Oh my God, I am SO into this sport that I will completely ignore for the next four years!!" - Americans watching the Olympics

— Rex Huppke (@RexHuppke) February 12, 2014