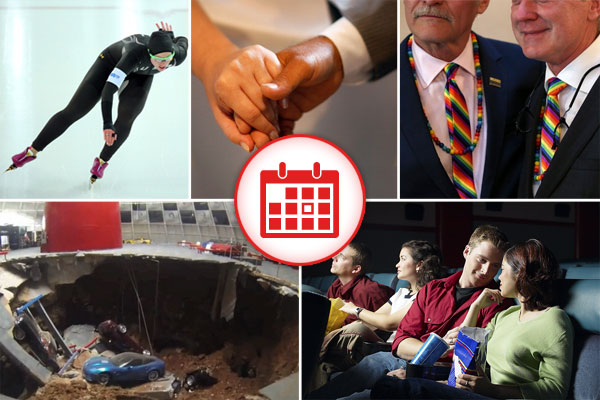 1. Federal Judge Strikes Down Virginia's Ban On Gay Marriage As Defenders Of Traditional Marriage Redouble Efforts To Keep Country Bastion Of Intolerance
As Virginia becomes the latest state to find its ban against same-sex marriage being torn down by a federal judge, conservatives are beginning to fight back and hopefully turn the country into the intolerant place they always knew it could be. Sen. Ted Cruz has introduced legislation that would keep President Obama from "forcing gay marriage on all 50 states," and the state of Kansas is about to pass a segregation bill that makes it legal to discriminate against gay people. Come on, America. We can make this place unlivable again!
I believe in traditional marriage. I will accept land, coin, linens or up to five healthy goats for the chore of marrying your daughter.

— Hank Thompson (@Hank_Thompson) December 12, 2012

2. Single People Buy Every Odd-Numbered Movie Theater Seat On Valentine's Day, Because Screw Those Happy Couples
Single people in China bought up every other seat for a Valentine's Day showing of a romantic date movie, just to force happy couples to be separated from one another during the show. That's the kind of brilliant, mean-spirited, outside-the-box thinking that's going to propel China to take over the world one day. 
Happy Valentine's Day to all you single sad sacks who probably don't deserve love, anyway.

— Michael Ian Black (@michaelianblack) February 14, 2014

3. Are U.S. Olympic Speed Skaters Being Sabotaged By Their Own Poorly Designed, Anti-American Uniforms?
Some people are beginning to think that the Under Armour and Lockheed Martin-designed racing suits being worn by U.S. speed skaters might be responsible for their disappointing performance in the Winter Olympics so far. Though, this theory seems far-fetched when one considers that creeping corporatization has never hindered success for American citizens in the past.
I always get speed skating and skeet shooting mixed up! Anyway, we'll be needing an ambulance again.

— Tom Ceraulo (@tceraulo) February 11, 2014

4. Watch Video Footage Of A Sinkhole Destroying Some Beautiful Corvettes Before They Can Be Destroyed By Some Trust Fund Douchebag
In case you ever wanted to know what it looks like for a giant mouth to open up and swallow a bunch of gorgeous sports cars, here is the security camera footage from the National Corvette Museum in Bowling Green, Kentucky you've been waiting for.
A sinkhole at a National Corvette Museum claimed 8 corvettes. Scientists say the sinkhole most likely had a very small penis.

— Eliza Bayne (@ElizaBayne) February 12, 2014

5. Great News For American Men: American Women Are 'Marrying Down' In Record Numbers!
According to a new Pew Research poll, for the first time ever, more women are marrying men with lesser educations than the other way around. Men who are confused about the significance of this finding should ask their wives to explain it to them.