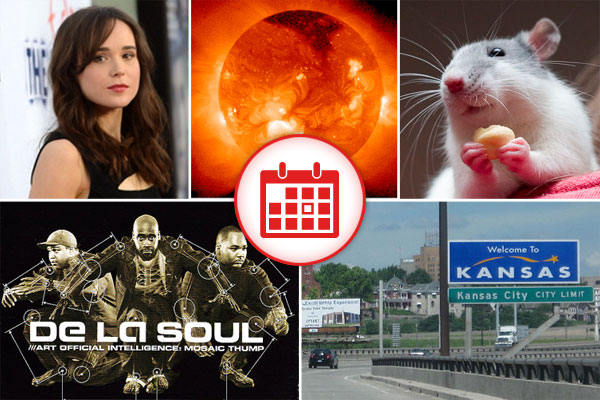 1. Ellen Page Transitions From Being Role Model For Quirky, Nerdy Girls To Role Model For Quirky, Nerdy Lesbian Girls
Juno star Ellen Page publicly came out as gay yesterday while speaking before an audience at a LGBTQ youth conference in Las Vegas, saying, "I'm here today because I am gay." She later explained, "I also do it selfishly because I'm tired of hiding and I'm tired of lying by omission." It is currently unknown exactly how this announcement will affect her NFL draft potential come May. Probably not at all, really.
oh just imagining all the str8 girls who are currently waking up from Ellen Page sex dreams/questioning everything they thought they knew

— Lane Moore (@hellolanemoore) February 15, 2014

2. Kansas Will Probably Have To Find Some New Way To Be Awful To Gay People Since Its Anti-Gay Segregation Law Seems Unlikely To Get Passed
The president of the Kansas state senate announced yesterday that a bill protecting businesses' rights to discriminate against gay people, passed by the state's house of representatives this week, will not likely pass her chamber, explaining that while many of her fellow Republican senators support traditional marriage and religious freedom, "my members also don't condone discrimination."
BREAKING: Federal judge rules that Kansas ban on gay couples celebrating Valentine's Day unconstitutional. Gov. Brownback promises appeal.

— Top Conservative Cat (@TeaPartyCat) February 14, 2014

3. Shocking Discovery: Only 78 Million Americans Are Currently Unaware That The Earth Revolves Around The Sun
According to a new poll from the National Science Foundation, one-in-four U.S. citizens are not aware that the Earth revolves around the sun. This seems high until you spend about an hour an hour watching MTV, at which point it seems exceptionally low.
America ranks 17th in science education, but I'm pretty sure the rankings were in metric, so it probably converts to like #1 or 2.

— Michelle Wolf (@michelleisawolf) August 24, 2013

4. In Several Million Years, The Earth Will Probably Be Ruled By Gigantic Rats, Much Like New York City Today
According to some scientists, after the human race eventually runs its course and goes extinct, the animal best suited to take over as the dominant species is the rat, based upon their ability to adapt to environments and their strong survival instincts. Plus, if you think about, they're the only species that's almost as gross and dirty as humans.
Almost had a shredder mishap. I was shredding documents when a giant rat came up to me and tried to recruit me to fight crime.

— Hank Thompson (@Hank_Thompson) March 1, 2012

5. Iconic Hip-Hop Band De La Soul Giving Away All Their Albums In Exchange For Briefly Returning To Public Consciousness
The groundbreaking hip-hop group De La Soul is gave away their entire discography as a free download yesterday in honor of the 25th anniversary of the release of their classic debut album 3 Feet High and Rising. If you didn't get to take advantage of the offer, that's a real shame, as there is currently no way to acquire free music from the Internet. Here they are rapping about an ancient device called an "answering machine," from their terribly underrated follow-up album De la Soul Is Dead:
Ooh, my De La Soul downloads have arrived! I will treasure each and every track. (deletes all skits immediately)

— John Moe (@johnmoe) February 14, 2014