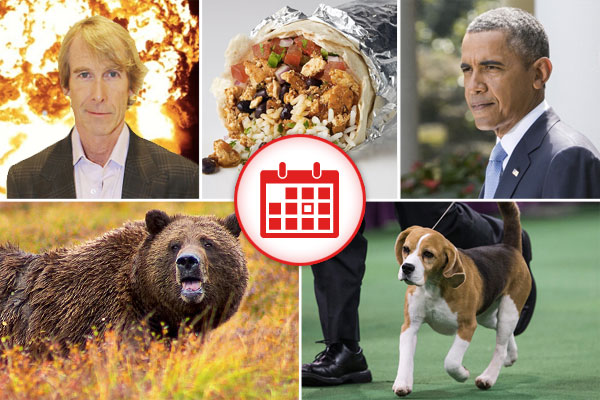 1. Michael Bay To Make Boom! Boom! Kerplow! Adaptation Of Benghazi Incident
Michael Bay is planning to direct an excessively loud and jarringly edited film about the 2012 attack on the U.S. embassy in Benghazi, Libya, starring John Krasinski as a guy who will stand in front of slow-motion explosions. This is one of two films scheduled to be made about the politically charged incident. The competing adaptation is by a guy who did not direct a series of movies about giant transforming robots, but did produce a movie based on a book that was adapted from a piece of Twilight fan fiction.
Michael Bay is making a movie about Behghazi? Finally, something worse than the actual Benghazi. http://t.co/YrX8DvfHtG via @Deadline

— Eric Williams (@EricWilliams1) February 7, 2015

2. Texas Judge Discovers Innovative Means Of Screwing Over Obama
Judge Andrew Hanen of the U.S. District Court for the Southern District of Texas managed to bring Barack Obama's immigration reform plans to a grinding halt yesterday, when he ruled that the president's executive order violated an obscure law from 1946 because it did not give the public adequate time to respond in writing before going into effect. This move accomplishes two things: 1) it stops hundreds of thousands of undocumented immigrants from being able to apply for work permits and receive legal protection, and 2) it gives your borderline racist uncle something to gloat about on Facebook.
Family bonding exercise 2: what's everyone's take on immigration?

— Mike Birbiglia (@birbigs) November 28, 2014

3. Beagle Wins 'Best In Show' Despite Being Beagle
A beagle named Miss P shocked the world—or at least the limited number of people in the world who care about dog shows—by winning 'Best in Show' at the Westminster Kennel Club's annual conformation show. The unlikely winner will serve as an inspiration for beagles the world over—or at least those dogs who are able to comprehend abstract notions about competition and breed purity, which is to say none.
BREAKING: A beagle is now more successful than you

— Rex Huppke (@RexHuppke) February 18, 2015

4. Chipotle Is Apparently The Reason Why Everybody In America Is So Fat
According to new data acquired by the New York Times, the average meal at Mexican chain restaurant Chipotle contains approximately 1,070 calories, which is somewhere between two-thirds and half of the recommended calories for one day of eating. It also contains "close to a full day's worth of salt (2,400 milligrams) and 75 percent of a full day's worth of saturated fat." Luckily, most of us only eat there three or four times a week.
"Last time I went to Chipotle they didn't have carnitas. This time they didn't have guac." - excerpt from a suicide note

— Tom Ceraulo (@tceraulo) January 26, 2015

5. Uh Oh, Which One Of You Dummies Woke Up All The Grizzly Bears?
Grizzly bears at Yellowstone National Park in Wyoming are apparently emerging from winter hibernation a month earlier than normal, according to park officials. Assuming they're anything like me when woken up early, visitors to the park should avoid them at all costs, lest they be mauled or forced into a unnecessarily vitriolic argument about why there are still so many dishes in the sink from last night.

I hate when you're in the shower and a grizzly bear bursts in and gnaws off your good leg.

— Quinn Sutherland (@ReelQuinn) January 11, 2015