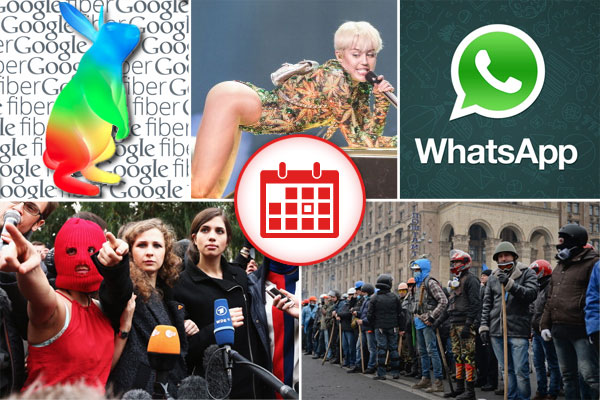 1. Facebook Buys WhatsApp Messaging App For $19 Billion So That They Can Ruin Whatever Was Good About It
Facebook just spent $19 billion on a messaging app called WhatsApp that most people just heard of because Facebook spent $19 billion dollars to buy it.
Facebook's $19 billion purchase will affect the way I think about WhatsApp because now I've actually heard of it.

— Frank Conniff (@FrankConniff) February 20, 2014

2. Pussy Riot Beaten With Whips By Sochi Police For Suggesting Russia Is A Brutal Police State 
Members of the Russian punk band Pussy Riot were attacked by police in Sochi earlier today as they attempted to sing a protest song about the brutality of the current Russian regime. Where they acquired such notions is currently unknown.
The mere fact that news outlets worldwide have to use the words "Pussy Riot" is a kind of victory in itself.

— Mojave Phone Booth (@MojaveFoneBooth) February 20, 2014

3. Maybe Consider Postponing Your Ukrainian Vacation Plans —  Violence Surrounding Protests Getting Worse
The violence surrounding anti-government protests in Kiev, Ukraine continues to increase, as reports emerge that at least 100 people have been killed and many more injured since skirmishes between police and protesters started last week.
After I saw the video but before I knew what was going on in Kiev, I thought a US city was happy about a sports thing.

— Chapinc (@Chapinc) February 19, 2014

4. Google Fiber May Be Coming To Save You From The Comcast/Time Warner Frankenstein Conglomerate
Google Fiber has announced that it is bringing its super-fast gigabit Internet service to 34 new cities in the coming months, including Portland, Atlanta and Salt Lake City. If you don't happen to live in one of the relatively few cities with this service, you will unfortunately have to continue living under the dystopian yoke of the two-headed Comcast/Time Warner monster, otherwise known as the service you've had for years now. 
Google Fiber scans and advertises to you based on the content of your colon.

— lanyard (@lanyardigan) April 9, 2013

5. Miley Cyrus Fans Who Have Apparently Not Been Watching Her For The Past Year Scandalized By Her Explicit Live Show
Some fans of Miley Cyrus want the very openly sexually suggestive pop performer to shut down her current concert tour due to the shockingly sexually suggestive nature of her performances. If only there were some way they could have known to expect such sexually suggestive imagery.
#moneyhungryhoe #bangerztour 👅 pic.twitter.com/pLrPPwFlJF

— Miley Ray Cyrus (@MileyCyrus) February 15, 2014
Miley Cyrus kicks off her new tour with outrageous outfits designed to distract from terrible music.

— Robert Yasumura (@teamyasumura) February 16, 2014