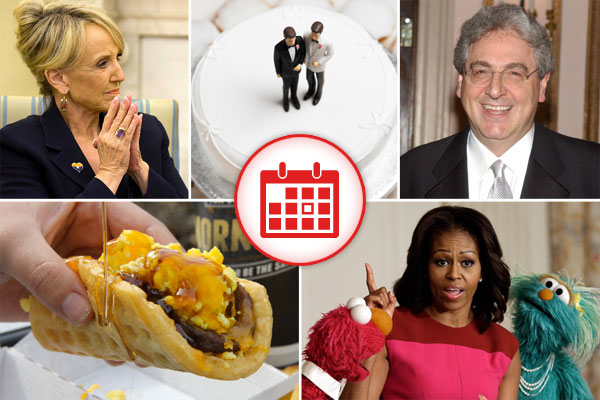 1. President Obama Slips 'Caddyshack' Quote Into Harold Ramis Tribute, Because That's What Nerds Do
While paying tribute to the legendary comedian and filmmaker Harold Ramis—who died yesterday at the age of 69—Barack Obama, like so many of us dorks who grew up memorizing every aspect of his films, couldn't resist dropping a little of Bill Murray's dialogue from the Ramis-co-scripted classic Caddyshack in at the end. So, Ramis has got that going for him, which is nice:
"Michelle and I were saddened to hear of the passing of Harold Ramis, one of America's greatest satirists, and like so many other comedic geniuses, a proud product of Chicago's Second City. When we watched his movies—from Animal House and Caddyshack to Ghostbusters and Groundhog Day—we didn't just laugh until it hurt. We questioned authority. We identified with the outsider. We rooted for the underdog. And through it all, we never lost our faith in happy endings. Our thoughts and prayers are with Harold's wife, Erica, his children and grandchildren, and all those who loved him, who quote his work with abandon, and who hope that he received total consciousness." 
I wish that tomorrow when my alarm clock goes off to Sonny & Cher singing "I Got You Babe" the news about Harold Ramis is different. #HRamos

— Doug Abeles (@dougabeles) February 24, 2014

2. The Waffle Taco Is Just One Of Many New Breakfast Items Available For You To Shove Into Your Face At Taco Bell 
Americans will no longer need to limit the Taco Bell-fueled destruction of the insides of their digestive tracts to just lunch, dinner, second dinner and late-night gorging. The fast food chain has announced that starting next month, it will offer a full menu of breakfast items, including the much-ballyhooed waffle taco.
Taco Bell is trending on Twitter in America - at breakfast time! Congrats, guys - We've hit a new low!

— Eli Braden (@EliBraden) February 25, 2014

3. Several Arizona Republicans Are Begging The Governor To Veto The Awful New Anti-Gay Bill They Voted For
Three GOP Arizona state senators are asking Gov. Jan Brewer to veto the anti-gay bill that they help push along to her desk (one of them, Sen. Bob Worsley, was actually a co-sponsor of the bill) due to the fact that the media is misrepresenting the bill—which allows businesses to refuse service to gay people—as exactly what it is. "While our sincere intent in voting for this bill was to create a shield for all citizens' religious liberties, the bill has instead been mischaracterized by its opponents as a sword for religious intolerance," they wrote in a letter to the governor.
Worst case scenario in Arizona: a gay person refused service when trying to buy a plane ticket to get the hell out of there.

— Frank Conniff (@FrankConniff) February 25, 2014

4. Department Of Justice Tells State Attorneys General That They Don't Need To Bother Defending Gay Marriage Bans So That They Can Focus Their Energies On Defending Other Stupid Laws
U.S. Attorney General Eric Holder has made it clear that his state counterparts should not feel obliged to legally defend the gay marriage bans that still exist in many states, especially when there are so many better ways for them to waste their time.
Just seems weird that in 10 years we'll have 100% legal gay marriage and pot, but no abortion or gun control.

— Robert Yasumura (@teamyasumura) February 14, 2014

5. First Lady Infringing Upon Americans' Right To Eat Garbage In Blissful Ignorance — FDA Updating Rules For Nutrition Labels
Looks like Michelle Obama got her way, and now all of us patriotic Americans will be losing our Constitutionally protected right to have insufficient information about the lack of nutritional value of the terrible food we are constantly cramming down our gullets all day long. The FDA has announced that it will be rewriting its rules for nutrition labels on food packages for the first time in 21 years.
My theory of nutrition is keep your body confused whether you're a health nut or a drunk.

— Julius Sharpe (@juliussharpe) November 18, 2013