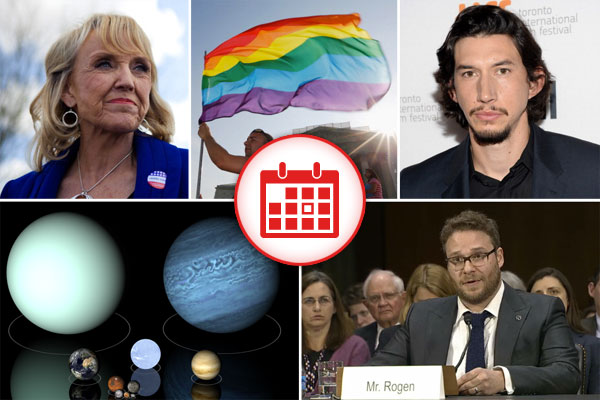 1. Arizona Governor Bravely Vetoes Anti-Gay Law That Even Legislators Who Voted For It Wanted Her To Veto
Gov. Jan Brewer has decided to veto Arizona 's controversial Senate Bill 1062—which would have given businesses the right to refuse service to gay people for religious reasons—thus protecting her state's reputation as only one of the most terrifying places in the country.
BREAKING: Jimmy Kimmel behind Arizona discrimination law, nation breathes sigh of relief.

— nate corddry (@imnatecorddry) February 26, 2014

2. Texas-Sized Gay Marriage Ban Struck Down By Federal Judge In Lone Star State
As has been happening in many other right-leaning states around the country in the past few weeks, a federal judge has stricken down a ban on same-sex marriage in Texas, making it slightly safer for gay state citizens to poke their heads out of their safe haven in Austin.
Fox News reports that Rick Santorum has issued a fatwa on the federal judge who ruled the Texas gay marriage ban unconstitutional.

— Top Conservative Cat (@TeaPartyCat) February 27, 2014

3. Weird-Looking Guy From 'Girls' To Play Weird-Looking Villain In 'Star Wars VII' 
Adam Driver—the tall, lanky, big-nosed guy from Girls and Inside Llewyn Davis whom all of your women friends find inexplicably hot—is in final negotiations to trade in his indie cred to play a villain in the highly anticipated, as-yet-untitled seventh Star Wars installment. They're probably working out exactly how many butt shots he gets to do.
I can accept Adam Driver as a Sith (as rumored) but only if he bellows out a big "UH-OH!" whenever someone shoots off into space.

— John Moe (@johnmoe) February 26, 2014

4. NASA Finds 715 New Planets Behind The Couch... Or In Outer Space — One Of The Two
NASA has announced that it has discovered, via its Kepler telescope, 715 new planets orbiting 305 stars. This nearly doubles the number of currently known planets and is not even 0.0000000000000000000000001% of all planets theorized to exist in our galaxy. 
NASA says there's 715 new Earth-like planets, but last time I checked: we're the only one that serves breakfast ALL DAY. #earth #suckit

— Thomas Lennon (@thomaslennon) February 27, 2014

5. Fewer Senators Showed Up To Hear Seth Rogen Testify On Alzheimer's Than Filmgoers Who Showed Up To Watch Him Play The Green Hornet
Only two of 18 U.S. senators on the chamber's Appropriations Subcommittee on Labor, Health & Human Services bothered to show up to hear actor and filmmaker Seth Rogen testify on the need for more federal funding for Alzheimer's research. Any senators reading this can watch Rogen's funny and heartfelt testimony here.
All those empty seats are senators who are not prioritizing Alzheimer's. Unless more noise is made, it won't change. pic.twitter.com/xDW6tlMHmH

— Seth Rogen (@Sethrogen) February 26, 2014