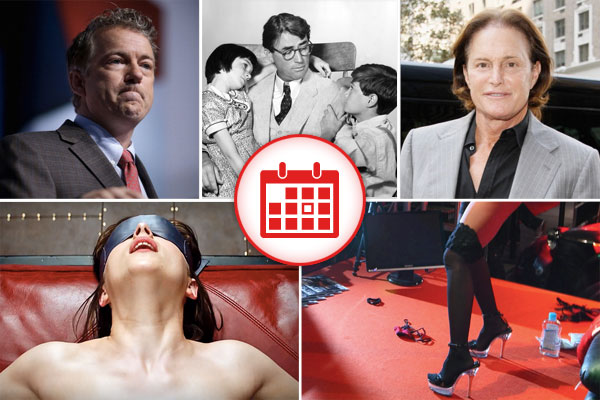 1. Rand Paul Wants You To Know That He Too Is Stupid About Vaccination Stuff
In an obvious effort to pull attention away from his likely 2016 primary rival Gov. Chris Christie, Sen. Rand Paul told CNBC that he too thinks that uninformed parents should get to choose whether or not to risk the lives of thousands of people by not getting their children vaccinated. "I have heard of many tragic cases of walking, talking normal children who wound up with profound mental disorders after vaccines," the certified doctor who totally knows better than that said.
If either Rand Paul or Chris Christie are elected President, Jenny McCarthy has a good shot at becoming Surgeon General.

— Frank Conniff (@FrankConniff) February 3, 2015

2. Bruce Jenner To Finally Talk About That Thing We've All Been Assuming For A Long Time Now
Bruce Jenner—the former Olympic athlete and reality television star whom we all kind of assumed has been in the process of gender re-assignment procedures for some time now—will sit down with ABC News' Diane Sawyer to discuss how he has been in the process of gender re-assignment procedures for some time now.
Bruce Jenner is finally transitioning into someone slightly interesting.

— Disalmanac (@Disalmanac) February 3, 2015

3. After 55 Years, To Kill A Mockingbird Author Finally Gets Around To Publishing Follow-Up
Pulitzer Prize-winning author Harper Lee announced that she will be publishing the long-awaited sequel to her groundbreaking novel To Kill a Mockingbird later this year. And thus, lazy, deadline-averse writers everywhere have been given a new champion.
Kudos to Harper Lee for nixing her publisher's request to have Scout Finch battle a dystopian government in the To Kill A Mockingbird sequel

— Gladstone (@WGladstone) February 3, 2015

4. Fifty Shades Of Grey Spurs Purchase Of Millions Of Sex Toys That Will Be Used Once
With the cinematic release of the film adaptation of E.L. James bestselling bondage novel impending, retail stores have seen a spike in the purchase of Fifty Shades of Grey-branded sex toys. "It is the biggest moment for our industry in popular culture pretty much ever," a co-founder of adult novelty retailer Babeland told the New York Times. Finally, the industry can reach the type of consumer seeking to buy a butt plug with Jamie Dornan's face on it.
Why spend $40 on a Fifty Shades of Grey sex toy when you could bludgeon yourself in the head with a rusty gardening spade?

— The Night Stalker (@kolchak) February 3, 2015

5. Portland Strippers Seeking To Work In Slightly Less Skeevy Working Conditions
The erotic dancers of Portland, Oregon are tired of putting up with the disgusting conditions of the strip clubs in which they're forced to work, so a number of them are pushing local politicians "to get these workplaces up to a minimum safety standard," according to dancer and movement leader Elle Stanger. "You have entertainers that could injure themselves from broken glass on the stage, poor wiring with the sound system," she told the AP. The lawmakers shouldn't be too difficult to convince. They probably spend enough time in those establishments themselves.
People who think they're above being friends with strippers must have really boring Facebook feeds.

— Semiotic Stochastic (@mitdasein) January 31, 2015