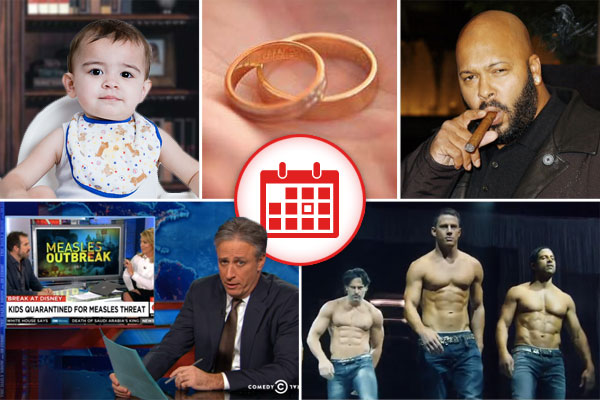 1. Suge Knight Has Totally O.G.-Style Panic Attack In Court
Hiphop mogul Suge Knight, who has a reputation for being both intimidating and stoic, was rushed to the hospital the other day after being attacked by his own anxiety in the court room where he was pleading not guilty to a charge of murder, for which he faces a possible life sentence. Knight's crew is currently searching for his anxiety so that they can beat it within an inch of its life.
Is there a vaccine against Suge Knight?

— albertina rizzo (@albz) February 3, 2015

2. Groundbreaking New Study Reveals That Some Married People Cheat And Some Don't
According to a new study from the University of Oxford, about 57 percent of men and 47 percent of women are inclined to cheat on their spouses, while 43 percent of men and 53 percent of women are more likely to stay faithful. "This research suggests that there may be two distinct types of individuals within each sex, pursuing different mating strategies," the researchers explained. The results have been published in the journal Biology Letters, but will probably be reprinted in Obvious Stuff Monthly.
Last night I took my wedding ring off because my finger was swollen and I wanted to commit adultery.

— Matt Knudsen (@mattknudsen) November 4, 2013

3. God Showers His Blessings Upon The Little Atheist Pagan Children
According to a number of studies, children who are raised in non-religious households grow up happier, more tolerant and more self-accepting than kids who are brought up believing that there's a man in the sky silently judging your every action and thought. Seems counterintuitive, doesn't it?
I have yet to meet a baby that isn't an atheist.

— Clarke Kant (@clarkekant) August 7, 2014

4. New Magic Mike XXL Trailer Is Here To Remind Straight Guys That They're Kind Of A Little Bit Gay
Warner Bros. Pictures has just released the trailer for Magic Mike XXL, the sequel to the hit Channing Tatum male stripper movie that resulted in lots and lots of heterosexual dudes sitting quietly in corners and thinking things through.

My hope is that Magic Mike XXL will help Americans better understand the plight of men like myself who suffer from washboard abs. #awareness

— Rex Huppke (@RexHuppke) February 4, 2015

5. Lots Of Dumb Anti-Science Liberals Were Pouting At Their TVs Last Night While Jon Stewart Made Fun Of Them
During last night's episode of the Daily Show, Jon Stewart took aim at the kind of liberal, anti-science parents who refuse to vaccinate their children because of discredited fad paranoias, which is to say a significant chunk of his audience.
Next season on The Walking Dead, Rick finds a cure for the zombie virus but wont give it to Carl because he believes vaccines arent natural.

— Rob Fee (@robfee) February 3, 2015