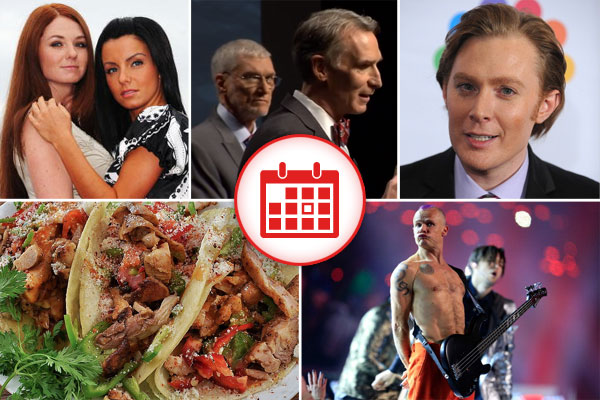 1. Clay Aiken Hoping To Put His Non-Offensive Unremarkable Talents To Good Use In U.S. Congress 
Clay Aiken is apparently hoping that the same bad decision making skills that the country employed to skyrocket him to success and fame on American Idol will put him in the U.S. House of Representatives. The pop singer announced that he's planning to run for North Carolina's 2nd congressional seat.
One day, Clay Aiken will be President, Justin Bieber will be married to Honey Boo Boo, and we can all stop and have a nice, long laugh

— GREG JOHNSON (@theGregJohnson) January 24, 2014

2. Reassuring Mythological Beliefs Face Off Against A Bunch Of Facts About Rocks At Last Night's Evolution Debate
Evangelical Christians learned more facts about rock formations and geological processes than they likely ever thought they would last night during Bill Nye's debate against Ken Ham over the validity of evolution. The majority of Nye's rock facts were countered with the word "Bible."
Sorry, Bill Nye, but I believe the first law of thermodynamics is that you do not talk about thermodynamics. #creationdebate

— Justin Shanes (@justinshanes) February 5, 2014
Canada watches America debate creation vs evolution, like America watches "Here Comes Honey Boo Boo."

— kelly oxford (@kellyoxford) February 5, 2014

3. Red Hot Chili Peppers Admit That, Like Denver Broncos, They Weren't Really Playing At Super Bowl
After some online speculation fueled by the fact that everybody in the world could plainly see that the Red Hot Chili Peppers didn't even bother to make it look like they had their guitars plugged in, the band's bassist Flea confirmed that they were not actually playing their instruments during Sunday night's halftime show. The lead singer, Anthony Kiedis, was actually singing live, he confirmed, though nobody had a hard time believing that at all.
How is it that Red Hot Chili Peppers faked the music part and still let Anthony Kiedis "sing" at the Super Bowl? Finish the job, dammit!

— Dave Hill (@mrdavehill) February 5, 2014

4. Olympic Host That Pretends Not To Be Homophobic Asks Pop Singers Who Pretend To Be Lesbians To Play At Opening Ceremonies 
The two-woman Russian pop duo T.a.T.u.—which grew to popularity in the '90s by pretending to be lesbian school girls and hanging all over each other while mostly naked to their fans' delight—will be entertaining the world during the Sochi Olympics opening ceremonies. This should put an end, once and for all, to any silly rumors about homophobia in Russia.
I think it's safe to say TaTu were one of the better fake-lesbian teenage music duos to come out of Russia in the last 30 years.

— Eli Braden (@EliBraden) May 14, 2013

5. Man Lost At Sea For 13 Months Dreamt Mostly Of Chicken, Tortillas & Suicide... So, Taco Bell?
Jose Salvador Alvarenga—the Mexican fisherman who spent 13 months lost at sea surviving on fish, birds and urine—said that he spent a great deal of time during his ordeal fantasizing about tortillas, chicken and killing himself. So, expect him to to be the new spokesperson for Taco Bell.
Castaway raises suspicion after saying his initial plan was to go on a three hour tour. A three hour tour.

— Andy Kindler (@AndyKindler) February 5, 2014