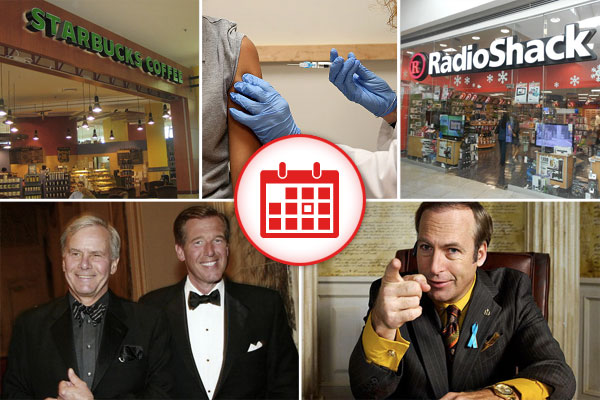 1. California Might Make It Illegal For Parents To Risk Lives With Their Dumbness
As reported cases in California's measles outbreak rise into triple digits, some lawmakers are planning to introduce legislation that will rescind parents' right to be idiot dumbshits who believe discredited medical studies by charlatans and refuse to have their kids vaccinated.
One of the worst side effects of measles is me burning your house down if you didn't vaccinate your kid.

— Julian McCullough (@julezmac) February 5, 2015

2. Tom Brokaw Finally Has An Acceptable Excuse For Not Liking Brian Williams
Former NBC News anchor Tom Brokaw wants current anchor Brian Williams' "head on a platter" after his replacement admitted to lying about wrestling a ferocious robot lion to the ground (or something) while covering the war in Iraq, according to an anonymous source at the station. This shouldn't be a big deal, since Williams reportedly became adept at sewing his own head back onto his body while covering the Battle of the Bulge.
Critics of Brian Williams forget that Walter Cronkite once claimed he wielded Orcrist the goblin-cleaver in battle against an army of wargs.

— Rex Huppke (@RexHuppke) February 6, 2015

3. Excited Breaking Bad Fans Will Get Their Chance To Be Disappointed By Better Call Saul This Sunday
The people behind AMC's much-anticipated new show, Better Call Saul, are doing their best to temper fan expectations ahead of its premiere this Sunday night. "It's tough," co-creator Peter Gould told the Hollywood Reporter. "We have this glorious thing, a built-in audience that knows this character and that's interested in the world of the show, but the truth is, this isn't Breaking Bad." I don't think he has much to worry about. Fans like me don't need it to be exactly like Breaking Bad. Just so long as it's about a chemistry teacher with brain cancer who becomes a meth kingpin and loses everything of value in his life, I'll be fine with whatever.
Brick just crashed through my window warning me that I'm not showing enough enthusiasm for "Better Call Saul."

— Josh Comers (@joshcomers) October 7, 2014

4. RadioShack To Close 2,400 Locations That Apparently Still Exist Somehow
People who supposedly continue to frequent RadioShack for whatever it is they sell these days will be disappointed to learn that the company has filed for bankruptcy and will be selling more than two-thousand locations nationwide. That is, assuming those people actually exist.
With RadioShack closing, anyone know of a good place I can go to feel depressed, confused and pressured all at the same time?

— Clarke Kant (@clarkekant) February 6, 2015

5. Annoying People Can Now Get Coconut Milk At Starbucks
Starbucks has announced that it will begin offering a coconut milk option to customers who like ruining their coffee drinks with subpar creamers but are getting tired of soy milk.
There's no coconut milk at this Starbucks. I can't tell who is more upset: the woman that asked or the woman who has to work at Starbucks

— Michelle Wolf (@michelleisawolf) January 18, 2015