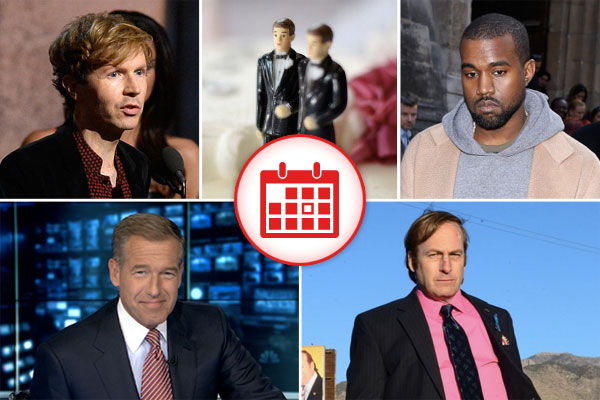 1. Beck Outs Self As Unfeeling Automaton After Kanye West Incident
After being publicly humiliated on live television for the crime of not being the artist Kanye West wanted to win the Grammy for Album of the Year, Beck responded to the slight in a way that no actual human being would: unsettling niceness. "I was just so excited he was coming up. He deserves to be on stage as much as anybody," Beck said to Us Weekly in response to questions about West approaching him onstage and later saying he should give the award to Beyoncé. "You can't please everybody, man. I still love him and think he's genius. I aspire to do what he does." It is currently unknown whether Beck is an alien, a robot or just a simple lobotomy patient.
I already feel bad for the youth soccer coach Kanye West will one day scream at.
— Rex Huppke (@RexHuppke) February 9, 2015

2. Show Made By Great Filmmakers And Starring Great Actors Turns Out To Be Surprisingly Great
Despite extremely high expectations among fans for Better Call Saul, AMC's spinoff of the cultural phenomenon that was Breaking Bad has so far managed to please practically every critic and television viewer. The Wall Street Journal's Scott Neumyer said the show "is so utterly full of life, interesting storytelling, great writing and acting, and such a complete show unto itself that it is difficult to even label it a 'spinoff.'" If the showrunners can just maintain this impossible level of quality for 40 or 50 episodes, they should be able to escape comparisons to Breaking Bad.
My favorite part of the Grammys is watching Better Call Saul.
— Jess Dweck (@TheDweck) February 9, 2015

3. Alabama Determined To Hold Onto Retrograde Hatred Of Gay People For As Long As Possible
Despite a federal judge ruling that Alabama must start issuing marriage licenses to gay couples today, the state's chief justice, Roy S. Moore, is trying to make the state cling to its irrational dislike of homosexuals for as long as it can manage by issuing an order that "no probate judge of the state of Alabama nor any agent or employee of any Alabama probate judge shall issue or recognize a marriage license that is inconsistent with (the Alabama Constitution)." They just need a few more days of that sweet, sweet homophobia until citizens find some new group to oppress.
Finally male cousins can marry in Alabama! #ALmarriage
— Eli Braden (@EliBraden) February 9, 2015

4. Brian Williams To Stop Being Charming In Public
Amidst the insanely fascinating spectacle of his career imploding, Brian Williams has decided to cancel a scheduled appearance on The Late Show with David Letterman so that he can focus on hiding in his closet and rocking himself into unconsciousness. This seems unwise to me. He could have used this as an opportunity to explain how Martians from the future had implanted the contested Chinook anecdote as a false memory in his brain.
Brian Williams has announced he is stepping down. Actually, that's what NBC said. Williams claimed he was shot down.

— Gabe Abelson (@Gabelson) February 9, 2015

5. New York Commuters Threatened By A Non-Mariachi-Related Plague
New Yorkers who frequent the city's subway system are often forced to deal with a lot of impositions, ranging from human beings who smell like public toilets to 22-decibel, five-piece Mariachi bands who appear out of nowhere. According to a new study of filthy subway poles, anthrax, E. coli and bubonic plague can now be added to the list.
bubonic plague is the leading cause of death among hipsters #FACT

— Jena Friedman (@JenaFriedman) February 24, 2014