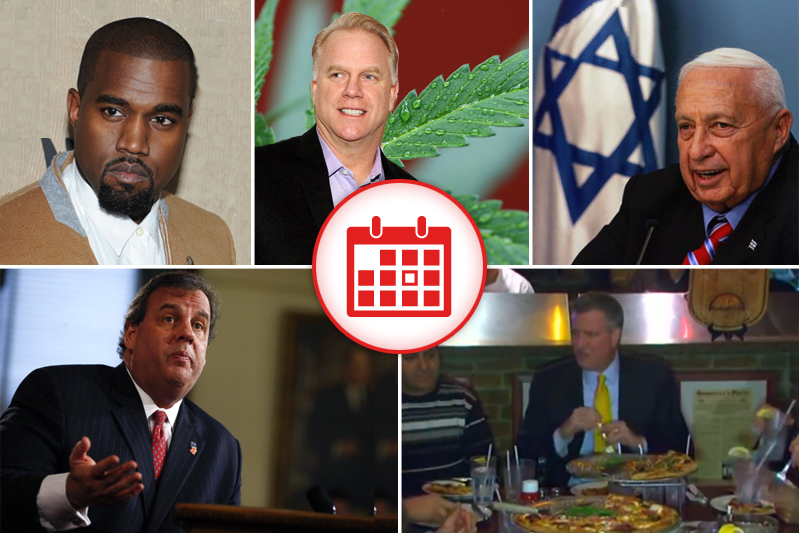 1. Boomer Esiason Recalls Dark Days Of Accidentally Getting A Contact High While Filming 'Monday Night Football' That One Time
Monday Night Football co-host Boomer Esiason talked his radio show audience through a hellish nightmare tale of drug-fueled color commentary that he and Matt Millen lived through, recalling a time in which some dude blew marijuana smoke into the "lean-to in the middle of the stands" in which the sports program is recorded. "I mean, we're 3 minutes into the game and Matt Millen's already looking for something to eat," he explained. "And Howard David is trying to keep us focused on the game, and Matt Millen and I are talking about everything but the game." Crazy days, man. Crazy days.
I feel like history will eventually show that Boomer Esiason was never the President of the United States.

— Paul Brittain (@PaulBrittain3) May 20, 2013

2. Former Israeli Leader Ariel Sharon Passes Away After Eight-Year Coma
Ariel Sharon—the controversial and strong-willed former Israeli military leader and prime minister who spent the past eight years in a coma—died earlier today at the age of 85.
Ariel Sharon was one tough dude for having two chick names.

— Adam Hammer (@AdamHammer) January 11, 2014

3. Becoming Harder To Not Laugh At Obvious Bullshit About Chris Christie Not Knowing About Bridge Traffic Plan With Each Passing Day
Newly-released emails show that New Jersey Gov. Chris Christie's top guy at the Port Authority knew that the George Washington Bridge traffic jam was not only politically-motivated, but was leading to dangerously slow responses from emergency medical services. Man, imagine how angry Christie's gonna be when he finds out that literally every person in his administration knew about this thing but him.
Fox News is leading the way with fast-breaking, up-to-the-minute ignoring of the Chris Christie scandal.

— Frank Conniff (@FrankConniff) January 11, 2014

4. Coinye West Currency No Longer Paying Homage To Kanye West, But To Half-Human Half-Fish Beast That Just So Happens To Look Like Kanye West
Following complaints from Kanye West's lawyers, creators of the cryptocurrency Coinye West have agreed to change the new form of money's name to simply "Coinye" and have updated its logo from an image of the hip-hop artist to "a half-man-half-fish hybrid who is wearing sunglasses, again, totally separate from any resemblance to [their] client."
Hahaha I don't know what Coinye West is but just saying it makes me laugh hahaha... Coinye hahahahahahahahaha.

— Nick Youssef (@NickYoussef) January 8, 2014

5. Watch New York Mayor Bill de Blasio Eat Pizza All Wrong, Real Slow And On An Eternal Loop
New York City Mayor Bill de Blasio has had a rough initial two weeks in office. First he had to deal with a polar vortex essentially shutting down the city for several days, and now he's coming under fire for allowing himself to be videotaped eating a slice of pizza at Staten Island's Goodfella's restaurant with a knife and fork. Obviously, he could not have stopped the winter storm. But this pizza scandal is all his.
De Blasio eating pizza with a fork could possibly be more devastating to NYC than Hurricane Sandy

— Desus (@desusnice) January 10, 2014