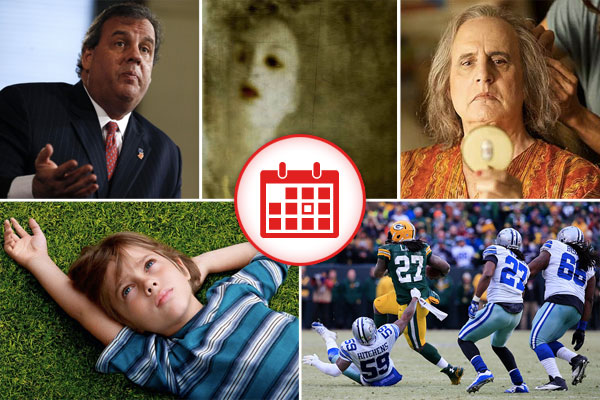 1. Boyhood Wins Golden Globe For Best Picture Despite Being Actually Very Good
Richard Linklater's twelve-years-in-the-making coming-of-age story Boyhood received Golden Globe awards for Best Picture, Best Director and Best Actress last night, leading many critics to consider it a frontrunner for the Oscars, despite featuring no characters who are bravely dying from an incurable disease, solemnly fighting social injustice or played by Meryl Streep.
Boyhood is a realistic film about a young actor who works in Hollywood for over a decade and only makes one film. 5 out of 5 stars.

— Abbi Crutchfield (@curlycomedy) January 12, 2015
I liked Boyhood better when it was called my Bar Mitzvah montage.

— Louis Peitzman (@LouisPeitzman) January 6, 2015

2. Jeffrey Tambor Wins Best Actor For Transparent, Becomes Icon For Non-Transgender Actors Playing Transgender People Worldwide
Transparent's Jeffrey Tambor made history last night by becoming the first actor to win a Golden Globe for portraying a transgender person onscreen. Tambor joins Jared Leto—who won an Academy Award last year for playing a transgender woman in the film Dallas Buyers Club—on an extremely exclusive list of winners that will probably be a little bit embarrassing in a decade or so.
Tambor's good but he dragged down The Ropers sitcom. I'll never forgive him.

— Shay Kitoff (@howardkremer) January 12, 2015

3. New Jersey Governor Mourns Playoff Loss Of Texas Football Team
New Jersey Gov. Chris Christie—who made headlines last week after openly hugging the owner of the Dallas Cowboys after their wildcard win that advanced them into the playoffs—had his joy turned to sadness yesterday after the Texas football team, for which no self-respecting, Springsteen-loving Jersey boy has any business rooting, was knocked from playoff competition by the Green Bay Packers.
.@GovChristie, do you need a hug now? #GoPackGo #WinninginWisco pic.twitter.com/32zPv6krRy

— Paul Ryan (@PRyan) January 11, 2015

4. Discovery Channel To Give Innovative Non-Pseudoscientific-Garbage Programming Format A Try
New Discovery Channel president Rich Ross has promised viewers that they will no longer have to endure shows about giant alien snake ghosts that eat humans whole while traveling through time on the supposedly-science-based channel. "I don't think it's actually right for Discovery Channel," he explained. "And it's [a type of programming] that I think in some ways has run its course. I don't think you'll be sitting with me here next year asking me a question about something I put on—whether a series or a special—where that's the dilemma." Great news! From now on, it's just shows about naked crab fisherman fighting for their lives at rural antique shows 24/7.

Discovery Channel says there won't be any more stunts like the recent man-eating anaconda. They're quoted as saying "They don't want none."

— Eliza Bayne (@ElizaBayne) January 11, 2015

5. Study: Dudes Who Take Tons Of Pictures Of Themselves Might Be Narcissists
Men who take a whole lot of selfies may show slightly higher levels of narcissism than men who are not constantly obsessing about themselves, according to a new study from Ohio State University. It's kind of shocking that this story isn't garnering bigger headlines, don't you think?
Invent a selfie stick that's also a vape pen and you will own the world's dumbasses.

— Scott Jacobson (@straintest) January 11, 2015