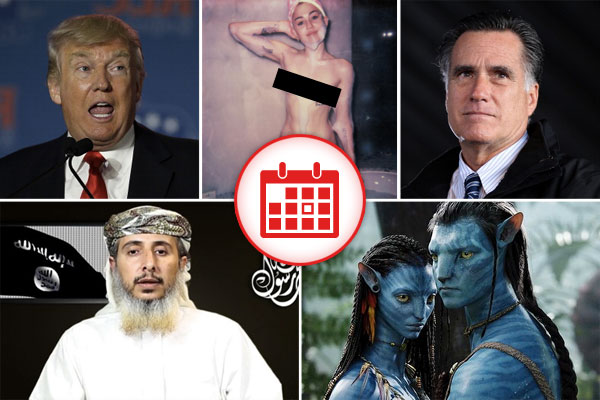 1. Masochistic Multi-Millionaire Considering Another Presidential Run
Mitt Romney "almost certainly will" be running for president again in 2016, according to a trusted advisor. The two-time failed candidate apparently enjoys watching himself lose as much as everyone else does.
Mitt Romney: "I will run for president again in 2016. And 2020. And 2024. Probably 2028, 2032, and 2036 as well."

— Top Conservative Cat (@TeaPartyCat) January 13, 2015

2. Yemini Al Qaeda Wants You To Know They're The Backwards-Thinking Barbarians Behind The Charlie Hebdo Terror Attack
Lest some other group of superstitious hate-mongering Luddites gets credit for their barbaric handiwork, the Yemini branch of terrorist organization Al Qaeda took responsibility for last week's mass murders in the editorial offices of satirical magazine Charlie Hebdo and a Parisian kosher supermarket, or—as they call it in a video that was uploaded to YouTube yesterday— the "blessed Battle of Paris."
Can we all agree that Al Qaeda hates us b/c Kate Upton is leading our army?

— Keith Alberstadt (@KeithAlberstadt) January 13, 2015

3. Donald Trump Yelling About Something Or Other Having To Do With An Airport Now
Deranged megalomaniac and possible 2016 presidential candidate Donald Trump is suing Palm Beach County for $100 million because he believes that Palm Beach International Airport is deliberately directing air traffic over his Mar-a-Lago estate, in a supposed—and seemingly successful—attempt to piss him off. "I am saving one of the great houses of this country and one of its greatest landmarks, and it's being badly damaged by the airplanes," he said in an interview Monday, probably while vibrating with intense anger.
I bet if you called Donald Trump "Dr. Trump" he would let you and also start introducing himself like that after too.

— Josh Gondelman (@joshgondelman) January 10, 2015

4. New Issue Of V Magazine Comes With A Fold-Out Naked Miley Cyrus
The last few remaining unseen square-inches of the surface area of Miley Cyrus's body are finally being revealed to the public in the newest issue of V magazine, which features—among a plethora of other naked photos—a fold-out poster of the 22-year-old former Disney Channel star standing fully unclothed in a bubble bath. "order yurrrr copy nowwwww cumzzzz w ol school pull out postahhhh photography by @cheythom fuck yaaaas weez a bunch of happy hippies ova hurrrr!" Cyrus explained via Instagram.
Miley Cyrus has managed to shock the world again http://t.co/Gp9KeyhehK pic.twitter.com/vDm2ybi6Lc

— Page Six (@PageSix) January 14, 2015
Wonder what Miley Cyrus will do when she realizes she can't get more nude.

— Shawn Garrett (@ShawnGarrett) August 29, 2014
5. James Cameron Promises No Avatar Sequels Until At Least 2017
Science fiction and film fans are getting a short stay of annoyance, as James Cameron announced today that he's pushing the release date of the first-of-three Avatar sequels back one year to 2017 so that he has more time to write wooden one-dimensional characters and invent ridiculous-sounding elements like "hardtogetium" and "toughtolocatiate."
A girl I'm texting just said she enjoys the movie Avatar so now I have to change my number.

— The Night Stalker (@kolchak) December 10, 2014