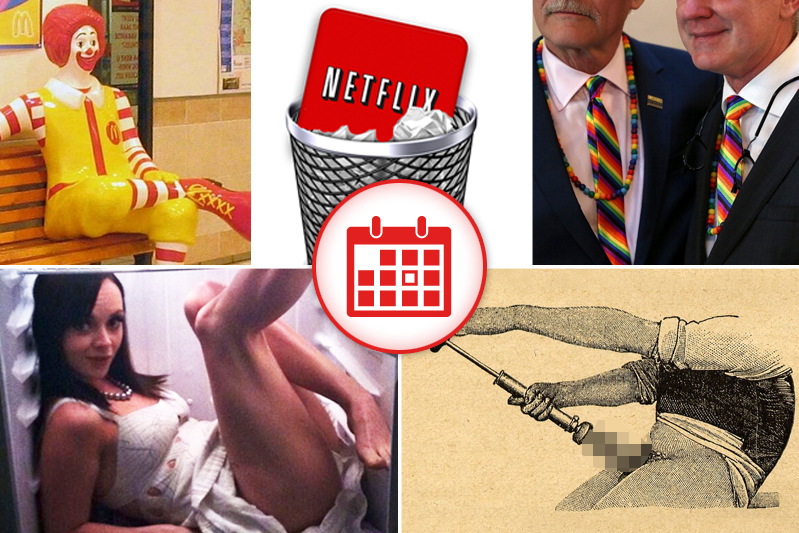 1. A Federal Judge Completely Destroyed The Internet Yesterday, Or Messed Up Netflix And YouTube A Little Bit At Any Rate
A federal judge yesterday ended net neutrality by ruling that Internet service providers don't need to follow FCC non-discrimination rules, so your cable company will now be allowed to turn off the steady stream of Netflix, YouTube and other websites that keep you sane.
Court has struck down net neutrality but this will have no effect on Internet freedom of spe

— Frank Conniff (@FrankConniff) January 14, 2014

2. The Internet's Newest Big Meme Is Pretending That Anybody Cares About This New Christina Ricci Meme
Low-rent celebrities and sad people with nothing useful to do with their time are for some reason now fixating on a picture that actress Christina Ricci tweeted out months ago, and photographing themselves crammed into small-ish spaces. And thus #Riccing, the lamest Internet meme, was born.
Yes, pants would have been more appropriate fitting-into-fridge attire. But, hey, I saw my opportunity and took it. pic.twitter.com/s3lhRg9Bg3

— christina ricci (@ChristinaRicci) November 27, 2013
We talked about #Riccing this AM so of course I had to try it @elisaDistefano Thanks @Adollin for playing photog pic.twitter.com/S9IY4vzLBi

— Elizabeth Hashagen (@Elizabethnews12) January 15, 2014

3. U.S. Government Spent $172 Million On Penis Pumps, And Most Of Them Aren't Even For John Boehner
According to a new report, Medicare spent about $172 million on penis pump sex aids for old flaccid dudes between the years 2006 and 2011. On average, each pump cost $361, which is more than twice the regular price of one purchased online. 
A cool thing about driving a BMW is that you can fill your tires if they get low by using the penis pump in your glovebox.

— Kyle Lippert (@Kyle_Lippert) April 16, 2013

4. Gang Of Old Korean Dudes Maintain Reign Of Terror Over Queens McDonald's
A group of old Korean people have staked their claim over a whole section of a McDonald's in Queens, New York, entering the store when it opens in the morning and not leaving until after dark, sometimes only sharing a single order of french fries. When ordered by the police to leave, they simply go around the corner and come right back in.
Yeaterday I was thrown out of a McDonald's after 30 minutes for being there for too long. No one said shit when I worked there for 7 years.

— Mike Lawrence (@TheMikeLawrence) January 5, 2014

5. Gay People Who For Some Reason Choose To Live In Oklahoma May Soon Be Able To Marry
A federal judge yesterday declared that Oklahoma's decade-long ban on same-sex marriage is unconstitutional. Unlike the recent similar ruling in Utah, gay marriage licenses were not immediately issued. Hopeful couples will instead have to wait while the case is appealed.
The gay marriage ban was struck down in Oklahoma, stunning those who still think "because it's icky" is a logical legal argument.

— shauna (@goldengateblond) January 14, 2014