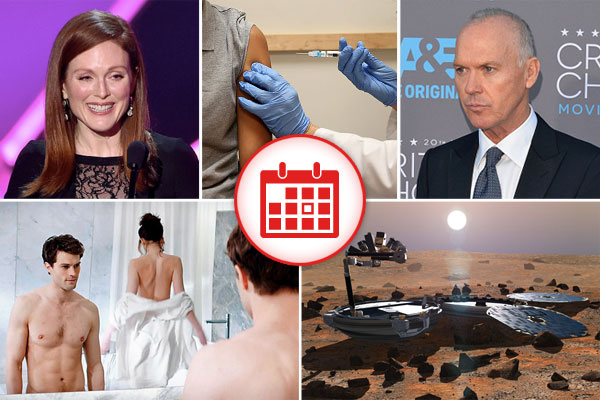 1. Movie Critics Have Had Their Say About 2014's Best Films, So Now We Can Go Back To Ignoring Them Again
Downtrodden film pundits—who spend 364 days a year having their fine cinematic recommendations ignored while the newest Michael Bay rakes in hundreds of millions of dollars —were briefly treated as though their opinions had weight last night as Boyhood, Michael Keaton and Julianne Moore received Critics Choice Awards for Best Picture, Best Actor and Best Actress before an audience of people who felt obligated to be in attendance.
Actress, to me, during awards season: "I'm counting the days until I can stop being nice. Put 'jokingly' if you print that. But I mean it."
— Mark Harris (@MarkHarrisNYC) January 11, 2015
2. Arizona To Force U.S. Students To Understand America As Well As Immigrants Do
Arizona just became the first state in the union to pass a law requiring students to pass a basic civics test before receiving a high school diploma. Apparently, citizens were tired of having all the immigrants they're trying to get rid of knowing more about the U.S. Constitution than they do.
I belong to a group that gets together on weekends to reenact civics classes.
— Dylan Brody (@dylanbrody) May 15, 2012

3. Horny Moms Of America Make Fifty Shades Of Grey The Fastest-Selling R-Rated Movie In Fandango's History
Advanced tickets for the highly anticipated film adaptation of the super-popular BDSM-for-people-who've-never-heard-of-BDSM novel Fifty Shades of Grey—which will not be released until Valentine's Day weekend—went on sale last Sunday, and it's already proving to be the fastest-selling R-rated film in the history of online ticket seller Fandango. That will likely be a big weekend for mom's-night-outs, so taverns located near suburban movie theaters are being advised to prepare themselves by stocking plenty of White Zinfandel.
These 50 Shades Of Grey ads make it look like the Olive Garden of Bondage.
— Lizz Winstead (@lizzwinstead) January 13, 2015

4. Flu Shot Only 23% Effective, Which Means There's A 77% Chance You're Going To Die
This year's flu vaccine is proving to be only 23 percent effective at shielding people from the illness, according to recent reports. This is in stark opposition to other years when the shot has been found to have a 50 or 60 percent efficacy rate. People all across the country are being advised (by me) to spend this winter wrapped in cellophane and locked inside a hyperbaric chamber. Failing that, they should just try their best to not get sneezed directly in the face by people.
I keep reading that having gotten a flu shot this year was basically meaningless. I can't believe I risked giving myself autism for nothing!
— Keating Thomas (@keatingthomas) January 16, 2015

5. Lost Mars Probe Found After 11 Years — Turns Out It Was On Mars
Beagle 2—the British robot dropped onto Mars back in 2003 only to quickly go missing—has been located on the Martian surface through the use of high-resolution imaging from a satellite. This is big, big news for that one guy in your office who cares about a bunch of oblique science stuff.
The scientific equivalent of losing your bank card ordering a new bank card, then finding your old bank card #Beagle2 http://t.co/ILbFzifzWM
— The Independent (@Independent) January 16, 2015