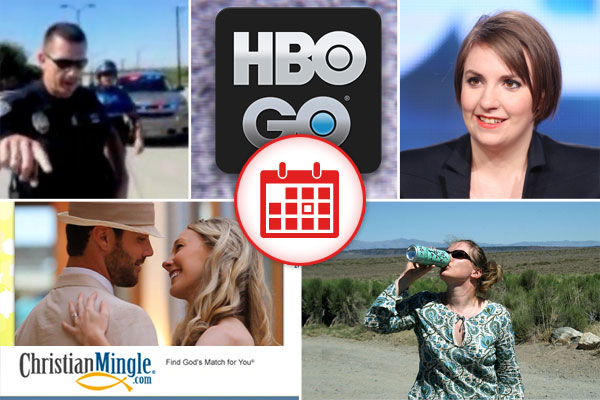 1. California Is Turning Into A Desiccated Wasteland Inhospitable To Life, And We Don't Just Mean L.A.
This recently released NASA satellite image highlighting the lack of snow in California shows just how bad off California currently is after a year of one of the most severe droughts on record.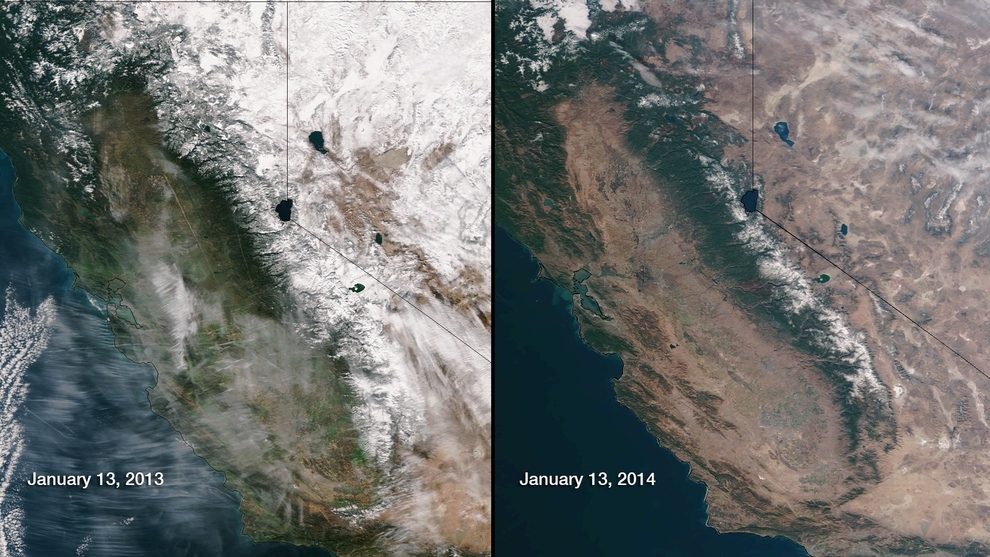 Being consumed alive by the hungry masses as the drought reaches it's apex and the grocery stores have been looted #LAproblems

— Big Tits Will Weldon (@oldmanweldon) December 5, 2012

2. HBO Knows We're All Using The Same Three HBO Go Passwords, And They're Fine With It 
In an interview with BuzzFeed, HBO CEO Richard Plepler said that he is aware that many viewers are sharing their HBO Go passwords with friends and family, and he's okay with that. "It's not that we're unmindful of it, it just has no impact on the business," he said. "We're in the business of creating addicts."
I'm just a girl standing in front of a boy asking him for his HBO GO password.

— Michelle Wolf (@michelleisawolf) December 23, 2013

3. Man Arrested For Screwing With Cop's Ability To Screw With Drivers
A Texas man was arrested and charged with "waving a homemade sign" for standing on the highway and holding a board reading "Police Ahead" to alert drivers of a speed trap a short distance up the road. The man claims that he was simply acting as a human sign post: "I'm the same thing as a speed limit sign, just reminding people that there is a limit here."
Before a cop gives you a speeding ticket, they should at least have to listen to the song you had on

— Bridger Winegar (@bridger_w) December 15, 2013

4. Jezebel Offers $10,000 For Proof That Lena Dunham Is Not A Flawless Exemplar Feminine Beauty
The feminist website is feminist-ically offering a $10,000 reward for anybody who can produce un-Photoshopped images from actor-writer-director Lena Dunham's recent spread in Vogue so that they can show the world what she really looks like—despite the fact that she shows the world what she really looks like when she gets naked every week on Girls—thus improving life for women everywhere. Reactions are mixed.
What if we just let Lena Dunham have a body?

— Sara Benincasa (@SaraJBenincasa) January 16, 2014

5. Woman Loses Half A Million Dollars To A Nigerian Con Man She Met On 'Christian Mingle,' Marking The First Time Anyone Has Ever Lost A Bunch Of Money To Someone Claiming To Be Deeply Religious
A 66-year-old California woman lost more than $500,000 of her retirement money to a Nigerian scammer that she met through the Christian Mingle website. So, people are using religious institutions to steal money from people nowadays? When did this start happening?!
I don't call it ˝going to church.˝ I call it ˝Christian Mingle IRL.˝

— Jordan_Morris (@Jordan_Morris) December 27, 2013