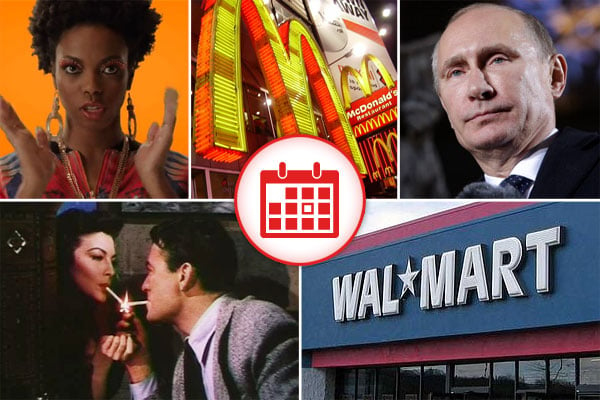 1. SNL Debuts Its First Black Female Cast Member Since The Last Time It Had A Black Female Cast Member
The post-racial post-gender era of American history officially kicked off last night after Sasheer Zamata made her debut as Saturday Night Live's first black female cast member since Maya Rudolph left the show in 2007.
It's probably much easier for Sasheer Zamata to be funny on SNL while being saddled with the pressure of representing an entire race/gender.

— Ryan Stout (@StoutRyan) January 19, 2014

2. Science Discovers A Bunch Of New Ways That Cigarettes Are Killing You... Speaking Of Which, Isn't It About Time For A Smoke Break?
According to new studies, diabetes, liver cancer and erectile dysfunction are just a few of the newly-discovered dangers that you will be actively ignoring while standing outside in the cold trying inhale a cigarette about 20 minutes from now.
Is smoking actually bad for you? COMING UP: A special report that fucks you around for a while before finally confirming that it still is...

— Mark Leggett (@markleggett) January 18, 2014

3. Vladimir Putin Reveals That He's Totally Cool With Gay People Named "Elton John"
In an effort to assuage foreigners that their gay athletes will face no dangers while in Russia for the 2014 Winter Olympics, Vladimir Putin revealed that he is so okay with homosexuals that he even allows a select few to penetrate his ears with their beautifully-crafted piano pop ballads.
Vladimir Putin riding a majestic stallion, shirtless while whispering, "No homo" over and over again in Russian.

— Sam Grittner (@SamGrittner) January 7, 2014

4. Walmart Customer Who Should Have Read The Sign Beaten For Having More Than 20 Items In The Express Checkout Lane
A 77-year-old Florida Walmart customer was arrested for beating a disabled 65-year-old fellow customer for entering the "20 Items Or Less" express lane with 22 items, a clear betrayal of the social contract.
I'm in the express lane with like fifty items, revving the handle of my shopping cart, just daring someone to say something.

— Nathan Buckley (@duplicitron) March 18, 2013

5. Study Shows McDonald's Not To Blame For Why Your Fat Kids Are So Fat
A new study published in the American Journal of Clinical Nutrition shows that your child's obesity problem might not be caused by fast food restaurants like McDonald's so much as all the other parenting decisions you made.
"OMG I can't believe how big your fat children are getting!"

— Josh Hara (@yoyoha) January 14, 2012