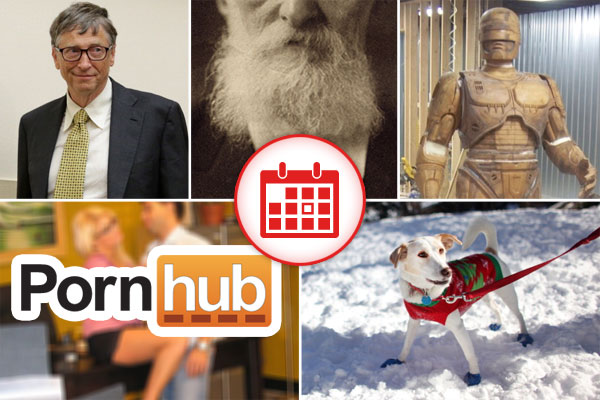 1. The World Is A Little Less Awful Than It Used To Be, According To Bill And Melinda Gates
In the Gates Foundation's annual letter, Bill and Melinda Gates eloquently made the case for their belief that the world is actually a much better place than it was just a few years ago. And then they restated their argument in the form of gifs for the sake of Buzzfeed's audience, thus disproving their original argument.
Bill Gates wants to change the world, starting with the following: No haircuts over $3.50, Making fun of eyeglasses is illegal, Mom jeans.

— Mark Leggett (@markleggett) December 16, 2013

2. Polar Vortex-Weary Northeast Braces Itself For Some Even Dumber Sounding Weather Thing Called A 'Bombogenesis'
If the last terrifying winter storm wasn't quite stupid sounding enough for you, you'll be happy to know that the U.S. is about to be buried under once again with something called a 'bombogenesis,' which is the technical term for a really goofily named "rapidly intensifying storm." 
Another Polar Vortex is coming but I heard it's not as good as the first.

— Susie Felber (@susiefelber) January 18, 2014

3. The Spirit Of MLK Penetrates PornHub
Looks like somebody's dream came true yesterday, though I'm not sure it was Martin Luther King's.
Happy MLK. In honor of his death, make sure to only use the Ebony category today.

— Pornhub Katie (@Pornhub) January 20, 2014
Nah Interracial Thats what he died for RT @Pornhub: Happy MLK. In honor of his death, make sure to only use the Ebony category today.

— Denni$ (@MyNiggaDIRK) January 20, 2014
Is it weird that we imagine all of this happening over images of stock photos?

4. Detroit Is Getting The Robocop Statue It Deserves, Not The Actual Robocop It Needs
It looks like Detroit is finally getting the 10-foot statue of a make-believe character from a sci-fi movie that its citizens have been pining for all these years for some reason or other.
I assume Robocop eats cd's because they look like robot doughnuts.

— Thomas Towell (@thomastowell) January 13, 2014

5. Is Your Beard A Racist Asshole?
You might think that your beard just makes you look stupid, but it turns out that it also makes you look kind of racist. According to the Atlantic, the ridiculous-looking form of facial hair was popularized in America by asshole white people who wanted to deny black barbers a decent living. Think about that next time you don't shave.
This beard I ended up growing is really, really stupid. Like, the one white guy in a funk band stupid.

— Matt Braunger (@Braunger) January 21, 2014

Bonus Thing: You Are Carrying An Entire '90s Era Radio Shack In Your Pocket
Writer Steve Cichon found an old Radio Shack ad from the 1990s, and he noticed something interesting: pretty much everything advertised here is in your phone.
the radio shack genius bar is pretty bad.

— blaine capatch (@blainecapatch) November 14, 2013