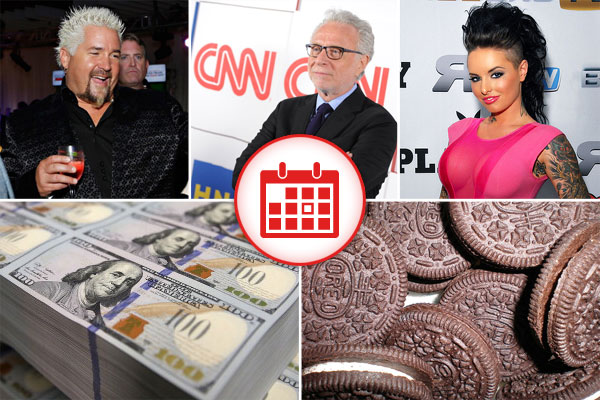 1. That Kid Who Stole Guy Fieri's Lamborghini And Tried To Kill Someone Is Going To Jail For Life, And Yet Guy Fieri Gets To Walk Free Despite Being Guy Fieri
Max Wade—that 17-year-old kid who Mission Impossibled himself into a car dealership to steal Guy Fieri's Lamborghini and later emptied a gun into someone's car before riding off on a motorcycle like someone from a poorly-written TV show—has been sentenced to 21 years to life. Guy Fieri, meanwhile, is in some drug store somewhere buying a gallon container of product for his hair.
I've never seen a vintage hot rod driven by someone who doesn't look like Guy Fieri.

— Alex Blagg (@alexblagg) January 22, 2014

2. Porn Actress Christy Mack Offering Oral Sex For The Best Lego Sculpture, So Buy Stock In Lego Right Now! 
Christy Mack, star of such pornographic films as The Dark Knight XXX and Rambone: A Dream Zone Parody, made a very interesting offer to her fans via Twitter yesterday.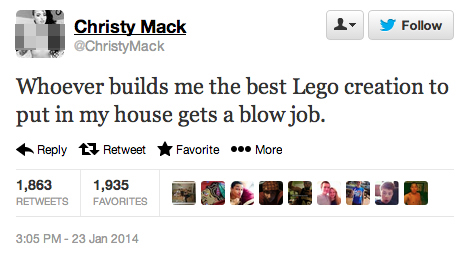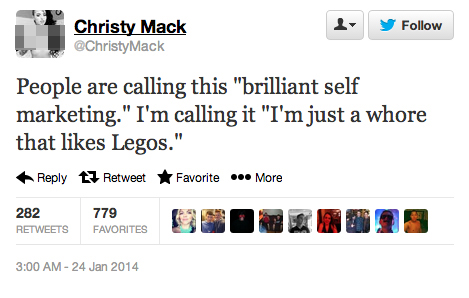 3. Uncle Sam Wants Your Drug Money
Attorney General Eric Holder has announced that federally insured banks that accept cash deposits from legal marijuana dispensaries in Colorado will not be tried for drug racketeering charges. At least until the next Attorney General comes along and changes that policy.
Every time a US state legalizes marijuana, an Amsterdam minister for tourism loses their wings.

— Mikey Mileos (@mikeymileos) January 23, 2014

4. CNN Hacked, Thus Briefly Looking Sillier Than Usual 
CNN's Twitter account was briefly hacked by the Syrian Electronic Army last night. However, the situation was fixed within minutes and all rogue tweets were deleted. The news site was then able to return to posting actual stories like this:
Should they #FreeBieber? Justin Bieber's mug shot and arrest details have just been released: http://t.co/vEqfLIvPBA pic.twitter.com/IuJMHsvdGZ

— CNN (@CNN) January 23, 2014
Shocking news from CNN hack! Another country thinks our country is stoopede!

— Jill Morris (@JillMorris) January 23, 2014

5. New Oreos Will Taste Like Uncooked Oreos — 'Cookie Dough' Flavor Hits Shelves
Nabisco has announced that it is releasing a new Cookie Dough-flavored Oreo for you to shove into your face get it in there get it in there just eat it eat them aaaaalllllll aaaaaaaaaggghhhhh!!!!!  They're also releasing a Marshmallow Crispy flavor.
I'm not here to tell you how to live your life, but if you haven't eaten a sleeve of Oreos like cereal, please do it so I'm not the only one

— Pauly Casillas (@PaulyPeligroso) January 24, 2014