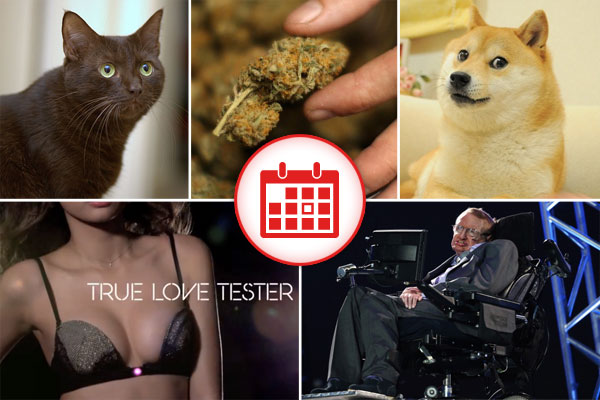 1. Colorado Pioneering Brave New World Of Drug Trafficking
While the state of Colorado and the U.S. federal government attempt to navigate the hazy laws concerning traveling from a state in which marijuana is legal to one in which it is not, it appears as though—for the time being at least—nobody is all that interested in sending you to jail for flying with your personal stash.
Colorado keeps asking Wyoming if it's going to eat the rest of its fries.

— Rex Huppke (@RexHuppke) January 17, 2014

2. Japanese Company Invents Bra That's Supposedly Asshole Proof
The Japanese company Ravijour has supposedly created a bra that "reads the woman's heart-rate signal" making it impossible to open except through true love, which sounds about as plausible as the idea of even finding someone who could ever truly love you for you in this awful miasmic pit we call life. 
I dated a girl who was such a prude an autopsy couldn?t get her bra off.

— Ian Edwards (@IanEdwardsComic) January 15, 2014

3. Nigerian Woman Who Disowned Her Cat For Being Gay Is Essentially The Dr. Doolittle Of Homophobes
After realizing that her cat of seven years had opted to live a homosexual lifestyle, a Nigerian woman has kicked it out of both her home and her life, saying "anybody interested in this gay cat can have it because I have no further use of it."
oh great i got married to a gay dog on accident. THANKS A LOT SUPREME COURT

— Cornell Reid (@CornellReid) June 27, 2013

4. New York Times Lets Your Parents Know About That "Doge" Meme You Found Briefly Entertaining About Three Months Ago
The New York Times is now officially as annoying as your co-worker Pete. Somebody needs to contact the CDC and find out how much longer until this cultural virus is expected to finish running its course.
DID YOU KNOW? In the early 21st century the Republic of Doge was still known as "America." #futuretrivia

— Semiotic Stochastic (@mitdasein) November 28, 2013

5. Stephen Hawking Sends His Black Hole Theory Into A Dark Void Of Nothingness
For scientific reasons that we are totally not qualified to explain to you here, astrophysicist Stephen Hawking has announced that black holes, as previously kind-of understood, do not exist. This is really big news for reasons that are utterly confounding.
Stephen Hawking says there is no such thing as black holes. Phone calls with my mother beg to differ.

— Tim Siedell (@badbanana) January 25, 2014