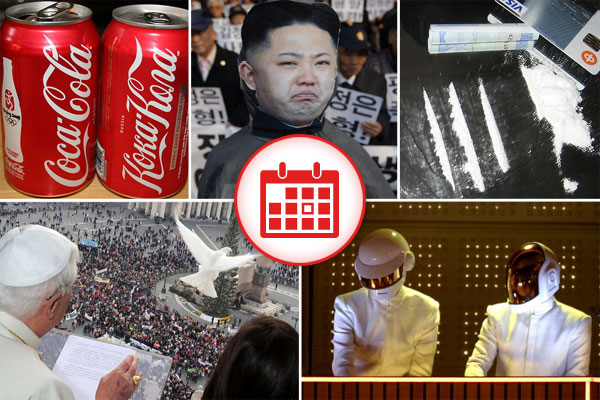 1. French Robots Are Coming Into America And Taking All Our Good Grammys
During last night's Grammy Award ceremony, French electropop band Daft Punk was handed awards for both record of the year and album of the year, Queen Latifah married several dozen gay and straight couples on stage, and Paul McCartney reunited with his former bandmate Ringo Starr to perform a song off his new album. Also, several other things happened. It was a long show.
Glad I didn't watch the rest of the Grammys. After seeing video clips, I fear I would've been in danger of unironically liking some of it.

— STEVE HUFF (@SteveHuff) January 27, 2014

2. Coke-Snorting Freshman Congressman Soon To Be Coke-Snorting Former Congressman
Trey Radel—the Republican congressperson from Florida who was arrested for possession of cocaine in October—has pled guilty to the crime and has announced that he will be resigning from office. It's probably just as well. There's no room in Congress for people who take responsibility for their actions. 
Rep. Trey Radel taking leave of absence from Congress to spend time with do you have cocaine, do you know where I can get cocaine?

— Miles Kahn (@mileskahn) November 21, 2013

3. God Getting Kinda Lazy With The Symbolism — Pope's Doves Of Peace Brutally Attacked By Raven And Pigeon
Moments after having been releasing into the air yesterday, several of Pope Francis' pure white doves were attacked—and presumably devoured—by larger birds of prey. How did that hacky idea even make it past the Lord's first draft?
Two white doves released by the Pope were attacked by two larger birds. Some say it's ominous sign. Yeah, a sign like science is real.

— Michelle Wolf (@michelleisawolf) January 26, 2014

4. Coca-Cola's Russian Olympic-Themed App Is In Denial About The Word "Gay" 
Much like the mayor of Sochi, who refuses to accept that there are gay people in his fair city, Olympic sponsor Coca-Cola's new social media app is refusing to accept the word "gay" as an input option.
The Olympics were originally just bunches of naked sweaty men grunting and having sex with each other

— Michael Kupperman (@MKupperman) January 27, 2014

5. Kim Jong-Un Really Knocking This Evil Despot Thing Out Of The Park — Has His Uncle's Entire Family Executed
North Korean leader Kim Jong-un reportedly had hundreds of members of his uncle Jang Song Thaek's family, including children, put to death. "The executions of Jang's relatives mean that no traces of him should be left," according to a South Korean news source.