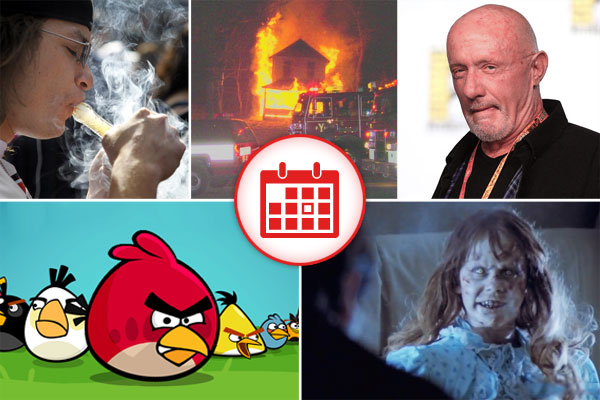 1. Angry Birds Turn Out To Be Two-Faced Rats — Your Games Are Feeding Info To The NSA
According to the New York Times, Angry Birds and other popular phone apps contain code written by the NSA that reveals information about the user to the government agency. Now it all makes sense! No birds without anything to hide have those kinds of emotional issues.
The gaggle of 4-year-olds behind me are playing Angry Birds(not the app one).

— Vanessa Ramos (@thatRamosgirl) December 21, 2013

2. Hero Man Risks Life In Burning Home To Save Defenseless Xbox
A Kansas man nearly died of smoke-inhalation after rushing into his burning home to save his beloved Xbox. Neither the man nor the gaming system sustained any permanent damage.  
Whenever my wife is away I feel morally obligated to play Xbox until 3am.

— Andr?s du Bouchet (@dubouchet) January 18, 2014

3. Many Colorado Citizens Prefer Their Pot To Have That Certain Illegal Flavor
Despite the fact that marijuana is now legal in Colorado, many state residents are still choosing to buy their pot the old fashioned way: illegally from a guy with bad skin who for inexplicable reasons never wears socks.
"I feel bad for all the out of work Marijuana Dealers in Colorado" -Nobody

— KlassyFucker (@KlassyFucker) January 1, 2014

4. One Of The Many Bald Guys From 'Breaking Bad' Will Bring His Baldness To 'Better Call Saul'
Remember that one bald guy from Breaking Bad? No, not that bald guy, the other bald guy. No, the bald guy who worked for Saul Goodman. Right, Jonathan Banks. That bald guy! Turns out he's gonna play a bald guy on the prequel spin-off series Better Call Saul.
It could be years before I'm able to delete Breaking Bad from the DVR.

— Giselle (@letsgetgizzy) January 28, 2014

5. Indiana Family Reportedly Possessed By 200 Demons, Which Is Probably Too Many Demons
The soon-to-be Pulitzer-winning newspaper The Indiana Star just broke a huge story about a Gary family who are being tormented by more than 200 demons, who force the family to perform magic tricks like levitating and walking up the wall backwards. And before you get all skeptical, this has all been corroborated by the local police and Child Protective Services, so don't even try to poke holes in this story that will change everything we know about science and metaphysics.
Every night it feels like my kids are auditioning for The Omen and The Exorcist.

— Jim Gaffigan (@JimGaffigan) January 7, 2014