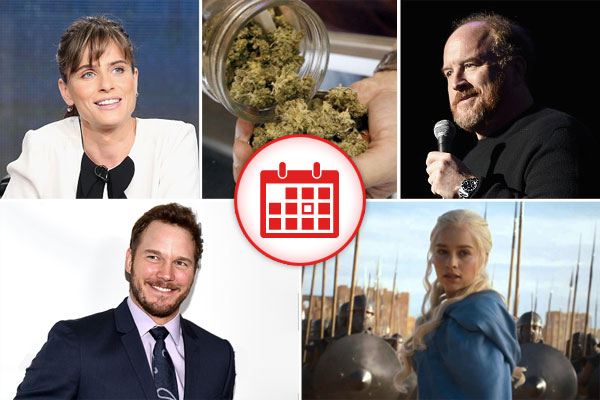 1. Mormon Church Calls For Something That Sort Of Looks A Little Like Gay Rights
In a somewhat transparent bid to retain the right to discriminate against gay people in the face of mounting public opposition, Mormon leaders are coming out in support of state-sanctioned housing and job protections for homosexuals in exchange for being exempt from having to change anything at all about their organization's anti-gay policies. Seems like a good deal! The gay community should jump on it!
Mormons say gays should be tolerated but want the right to discriminate against them. That's like having your cake & ignoring the frosting.

— Hayden Black (@haydenblack) January 27, 2015

2. Colorado Residents To Get Pot-Tax Refund That They Can Use To Buy More Pot
After experiencing a massive spike in tax revenues from legal marijuana sales, Colorado may be forced to give about $30 million back to taxpayers, due to an article in the state constitution limiting the amount the state can take from residents. Those receiving refund checks are free to spend it on whatever they like, be it pizza, tortilla chips or Ben & Jerry's ice cream.
A new study says marijuana use has risen in Colorado. It was conducted by the No Shit Sherlock Institute.

— Warren Holstein (@WarrenHolstein) December 27, 2014

3. Louis CK Self-Releases New Show, Says Tearful Goodbye To Comedy Clubs and Settles DeflateGate All In One Day
So far this week, comedian/television auteur Louis CK released his newest self-produced stand-up comedy special through his website for $5, delivered a lengthy and heartfelt essay on his happy experiences working the comedy club circuit to members of his mailing list and made a succinct and funny point about the New England Patriots's ball-deflating scandal as a guest on The Late Show with David Letterman. He accomplished all of that within one 24-hour period. He hasn't done anything noteworthy so far today.
Worried the only person who is nice to me via email is Louis CK writing to his entire mailing list.

— Dan Wilbur (@DanWilbur) January 26, 2015

4. Chris Pratt Being Considered For Indiana Jones Reboot, Every Action Movie For Next Twenty Years
After kind of playing Han Solo in last year's blockbuster space opera Guardians of the Galaxy, Chris Pratt might be co-opting another one of Harrison Ford's iconic roles, when Disney begins pumping out new chapters in the Indiana Jones franchise. This is the first piece of good news concerning the unnecessary remake, though what I'm really excited about is his eventual Oscar-worthy performance work in the inevitable Regarding Henry reboot.
Also congratulations to Chris Pratt on playing the new Indiana Jones, Han Solo probably, James Bond, Wolverine, Charles Foster Kane etc.

— Daniel Kibblesmith (@kibblesmith) January 28, 2015

5. Amanda Peet Tried So Hard To Keep You From Getting Your Precious Game of Thrones
Luckily for all of us, Game of Thrones co-creator David Benioff doesn't give much credence to his wife Amanda Peet's opinions or advice, or else he would never have gotten involved with the ridiculously popular HBO fantasy series. "I thought it was a terrible idea. Terrible," she told Conan O'Brien. "Silly. Like Dungeons and Dragons but real with real people." Right! That's exactly why we love it!
What about a "CHiPs" reboot but instead of cops on motorcycles it's more "Game of Thrones"?

— Michael Ian Black (@michaelianblack) January 7, 2015