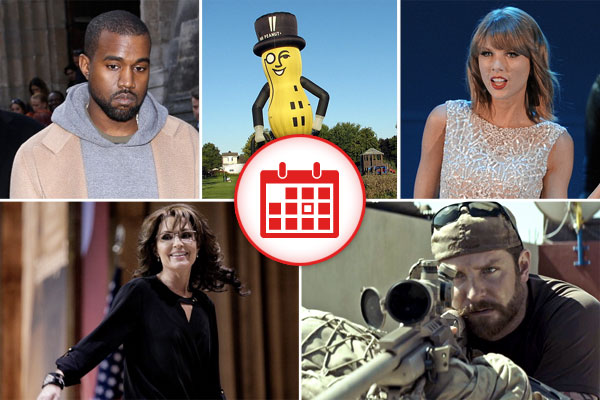 1. GOP Comes To Defense Of Movie About Patriot Who Kills Foreigners From Safe Distance
The National Republican Senatorial Committee is asking conservative moviegoers to sign a petition in support of Clint Eastwood's Oscar-nominated blockbuster film American Sniper, which has been the victim of several mean-spirited comments by anti-American liberals like Michael Moore and Bill Maher. Hopefully, their efforts will supplement the hundreds of millions of dollars in box office receipts in comforting the film's creators.

Enough with political hacks reviewing AMERICAN SNIPER, I want to hear what Rex Reed and The Moviefone Guy think about ISIS.

— Bertolt Blecht (@benschwartzy) January 25, 2015

2. Taylor Swift Too Much Of A Goody Two-Shoes To Worry About Hacked Nudes
Taylor Swift was relatively unfazed by the cyberattack on her telephone account, telling hackers who claim to have nude photos of her to "Have fun photoshopping cause you got NOTHING." The pop singer's display of confidence is being seen by many people as confirmation that she is in fact a sentient sugar-coated cinnamon stick.
The reason the hackers won't ever get Taylor Swift's nudes is because she takes daguerreotypes and has them delivered via carrier dove

— Sara Schaefer (@saraschaefer1) January 28, 2015

3. Kanye West Says He Is No Longer A Two-Year-Old Child
While talking to Ellen DeGeneres on her daytime talk show earlier today, adult hiphop artist Kanye West seemed to imply that he will not be acting like his diaper-wearing daughter anymore. "I think I was going through my version of my terrible twos," West said of his multiple onstage and on-air tantrums over the past few years. "My daughter, she wants to express herself, she just doesn't have the words for it. And for me, there's so many things I want to do with film, with clothing, and I just didn't have the words or the resources or the backing or the perception that I could do it being that I was a rapper or all these things."
Kanye West thinks the new Kanye West single is the best Kanye West track Kanye West has put out since Kanye West's last Kanye West. #Kanye

— Rex Huppke (@RexHuppke) January 1, 2015

4. Sarah Palin Is Mad That People Don't Treat Her Seriously Just Because She Is Unserious
Sarah Palin—the former governor of Alaska who quit midway through her first term in order to capitalize on the newfound fame that came with her vice presidential nomination, before then starring in her reality TV show and going on several publicity tours for no particular reason—is hopping mad that conservative pundits desperate to see a strong conservative politician in the White House are not taking her possible candidacy with the seriousness it deserves.
Palin, outraged that O'Reilly described her political career as a "Reality Show," demanded that he be voted off the island.

— Frank Conniff (@FrankConniff) January 28, 2015

5. Scientists Close To Ending Mr. Peanut's Reign Of Terror
Australian researchers at the Murdoch Children's Research Institute think they may be close to finding a cure for the peanut allergy that makes lunchtime at friends' houses such a harrowing endeavor for so many kids around the globe.

I once dated a fella with a peanut allergy, so that was one relationship where I held the power.

— Liana Maeby (@lianamaeby) November 10, 2014