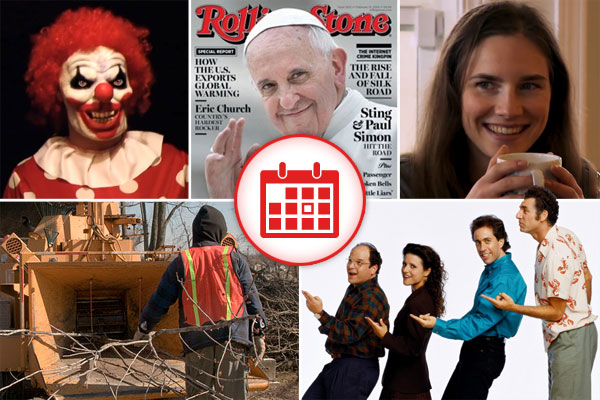 1. Some Woman Named Amanda Knox Strangely Unenthusiastic About Free Trip To Italy
26-year-old Seattle woman Amanda Knox seems oddly reluctant to accept an all-expense-paid 28-year trip to Italy, despite the fact that her last trip there in 2007 was so eventful it made national papers. Maybe it's because she seems to have something called "double jeopardy" here in the states.
For those confused by the Amanda Knox ruling, keep in mind that Italy functions under the very same constitution as Game of Thrones.

— Eugene Mirman (@EugeneMirman) January 31, 2014

2. Jerry Seinfeld Teases A 'Seinfeld' Reunion That Is Almost Certainly A Super Bowl Commercial
While on a radio show the other day, Jerry Seinfeld confirmed a Seinfeld reunion, featuring all the show's main characters. According to the comedian, the project will be "short-ish" and will drop "very, very soon." He did not however say during which quarter of the Super Bowl it will be seen or which product it will be hawking.
There was a Seinfeld reunion last night! And every night. They're called re-runs, people.

— David Waghalter (@dwaghalter) January 30, 2014

3. Pope Francis Gets His Own 'Rolling Stone' Cover, Just Like Dzhokhar Tsarnaev and Miley Cyrus Before Him
Pope Francis recently became the first of 266 popes to appear on the cover of Rolling Stone magazine. It's worth noting that Pope Honorius II, who headed the Catholic Church from 1124 to 1130, came very close to being chosen for the cover, but since the magazine was not founded until 837 years after his death, that idea was ultimately nixed.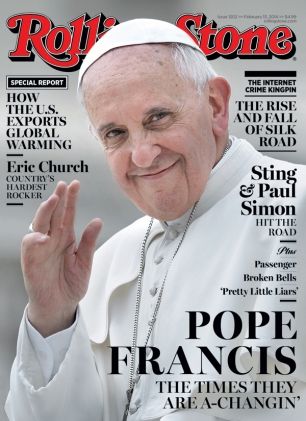 Has the new Pope given Trey Parker and Matt Stone sainthood yet? he will.

— Paul Danke (@pauldanke) January 30, 2014

4. Gun-Wielding Clown Somehow Manages To Make Clowns Even More Terrifying
A man in clown make-up and costume has been been scaring the shit out of Melbourne, Australia residents lately by following them around and threatening them with a gun. This seems slightly odd, but... Australia. So, who knows?
Top 3 most horrifying things: 3. skulls without faces, 2. clown mask full of worms, 1. grown man making his date watch him in an improv show

— Eliza Skinner (@elizaskinner) January 29, 2014

5. Unfortunate Man Sucked Through Wood Chipper And More Unfortunately Survives It
A Vancouver, Washington man recently had the unpleasant experience of being inside a wood chipper, attempting to clear a blockage apparently, when a co-worker turned the machine on. He then had the more unpleasant experience of maintaining consciousness for the entire ten seconds it took to pass through the machine's workings. He is currently dealing with the extremely unpleasant experience of surviving his multitudinous injuries. 
The most common near death experience is life.

— Josh Hara (@yoyoha) July 21, 2013