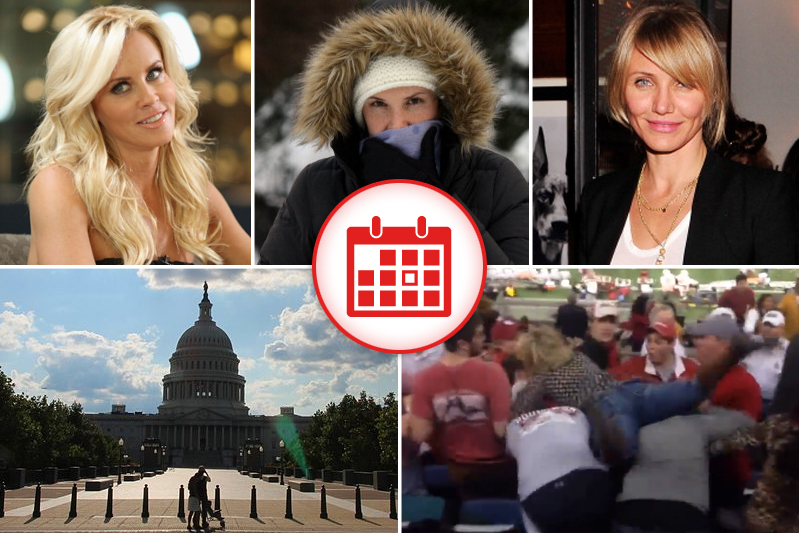 1. Jenny McCarthy's Son May Or May Not Have Autism, But Thanks To Her Anti-Vaccination Movement Thousands Of Kids Really Do Get Sick Every Year
A newly-resurfaced article from February of 2010 has re-ignited the controversy about whether or not Jenny McCarthy's son is autistic (the answer is probably maybe yes?) and, if so, if it was brought on by vaccinations given to him as an infant (definitely definitely no!). One thing we know for sure is that the anti-vaccination movement—for which Jenny McCarthy has made herself the public face—is responsible for the highest number of measel cases in decades and the worst whooping cough epidemic in 2/3rds of a century.
I just sold Jenny McCarthy a vile of dragon blood for $10,000.

— Nick Youssef (@NickYoussef) January 4, 2014

2. Entire Midwest To Essentially Be Frozen Into One Solid Block Of Ice This Week
Temperatures are expected to drop to double-digit negative numbers this week through the Midwest. And, though the onslaught of Arctic air could lead to negative-20 degree weather in places like Chicago, with the wind chill it will likely wind up feeling more like negative-50. This could force many Midwest residents to wear both a winter coat and a hat while drinking on their front porches.
I'd tweet about how cold it is but my penis and balls just froze off and I usually use those two things to tweet, so I can't!

— Joe Randazzo (@Randazzoj) January 4, 2014

3. Cameron Diaz Demands More Pubic Hair
In a section of her new book that she supposedly wrote titled "In Praise of Pubes," actress Cameron Diaz urges women everywhere to let their public hair grow wild and free, because apparently a thick and brambly bush is pleasing to Cameron Diaz.
Cameron Diaz wrote a book on loving your body. It's the perfect gift for a woman you hate.

— ali waller (@imaliwaller) December 23, 2013

4. Congress Still Divided On Whether Or Not To Let Americans Starve To Death
While an estimated 72,000 U.S. citizens continue to lose unemployment benefits every week, Congress is still on the fence about whether they should extend benefits to help those struggling in the bad economy or simply let them starve and freeze until they stop complaining and their dessicated bodies get blown away with the wind.
If I live in Colorado and I'm unemployed can I write off weed as a business expense?

— Aaron Glaser (@aaron_glaser) January 3, 2014

5. Crazy Lady Goes On Angry Rampage Through Crowd At Alabama-Oklahoma Game
A wild Crimson Tide fan—clearly incensed by her team's poor showing at Thursday night's Sugar Bowl game between Alabama and Oklahoma—hurled herself into a crowd of Sooner fans and began wildly punching and kicking like a maniac until she was eventually subdued and released back into the wild of the parking lot. 
Whenever Alabama fans chant "Roll Tide," the opponents should shout, "Ha ha, you're controlled by THE MOON."

— Aaron Fullerton (@AaronFullerton) January 3, 2014