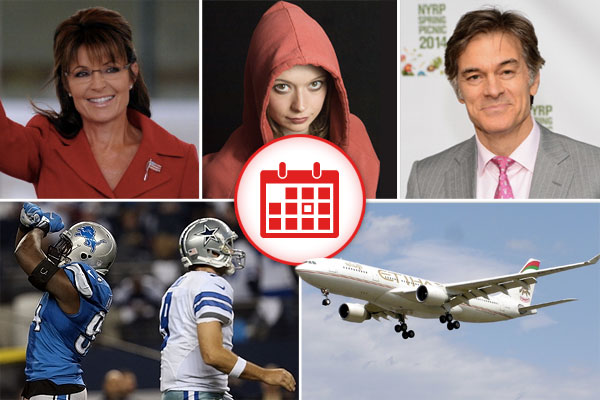 1. Refs' Terrible Call Makes It Slightly Easier For Cowboys To Knock Lions Out Of Playoffs
The Dallas Cowboys caught a big break yesterday in a wild card playoff game when a flag for flagrant pass interference was inexplicably rescinded by the referees, keeping the Detroit Lions from receiving a sorely needed first down and many yards. They then received a whole bunch more big breaks as the Lions proceeded to do no good for themselves for the rest of the game.
Congrats to the Dallas Cowboys and the refs on beating the Detroit Lions
— Brian Gaar (@briangaar) January 5, 2015

2. Sarah Palin Defends Standing On Dogs As A Lifestyle Choice
After conservative icon and public relations genius Sarah Palin made the wise decision to share a photo of her six-year-old son Trig standing on top of the family dog as though he were a foot stool on Facebook last week, she started to get a little blowback from fans, non-fans and PETA. She thoughtfully responded by pointing out that liberals are stupid and Barack Obama eats dogs. Check and mate, critics.

Photo Sarah Palin posted of son standing on a dog is not really animal cruelty, it's more a case of human douchebaggery.
— Frank Conniff (@FrankConniff) January 2, 2015

3. UAE Airline Finds Innovative Way To Make Air Travel Even More Nightmarish
The United Arab Emirates-based airline Etihad Airways reportedly kept a plane full of passengers trapped onboard while the aircraft was parked on the tarmac for 12 hours without food while they waited for weather conditions to improve this weekend. "They kept telling us that we were going to leave, you know 15 minutes from now, 20 minutes from now, 30 minutes from now, for 12 hours," one passenger later explained to The Guardian. Officials from every other airline are currently studying this incident with the hope of replicating it the next time you have to fly to your in-laws'.
One nice thing when you have to wait on the Tarmac for a while they make it a toasty 170 degrees.
— x_ (@cornlog) November 23, 2014

4. Dr. Oz To Bring His Discredited Medical Advice To Magazine Stands
Television physician Dr. Mehmet Oz is taking the next logical step after a scientific study showed that approximately half of the advice he dispenses is utter nonsense: he's expanding his audience. His new magazine, Dr. Oz The Good Life, should be available for your gullible family members to start buying sometime in the upcoming months.

I informed my mom that Dr. Oz is full of shit and inadvertently sent her world spinning out of control.
— Shane Mauss (@shanecomedy) July 30, 2014

5. Oklahoma Might Make Hoodies Illegal In Effort To Make Oklahoma More Ridiculous
Lawmakers from Oklahoma are considering amending an old law intended to dissuade Ku Klux Klan members from committing hate crimes while wearing hoods to make it illegal for people (read as: black people) to wear hoodies in public. Exceptions to the law would include religious garb, halloween costumes and the fashion choices of people whom they don't feel like harassing.
I went on one date years ago where at one point we were just talking about the various hoodies we both own. I want that magic back.
— Lenny (@lennyburnham) January 4, 2015